Ryan Giggs: David Moyes is starting to see why we're Premier League champions
Ryan Giggs tells Gary Neville about his career and how United have changed under David Moyes.
Last Updated: 25/11/13 9:41am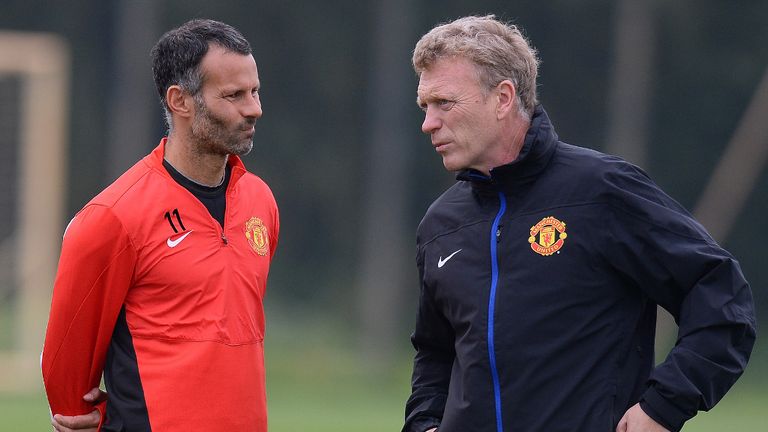 So when Sky Sports pundit Gary Neville sat down for a one-on-one interview with fellow United legend Ryan Giggs, experience suggested a classic interview was in store.
Click on the video above to hear Welsh wizard Giggs talk about his life and career at Old Trafford, plus the changes that the club has undergone since the departure of Sir Alex Ferguson - including what he makes of United's inconsistent start to the season.
In a full and wide-ranging interview, the veteran winger also talks about his future hopes and aims and discusses what it's like to now be a player-coach and who he considers to be United's main title rivals this season.
Read our taster of the interview below - or check out the full video right now!
Gary:Do you feel like United have turned the corner? You are nine games unbeaten in all comps. Do you feel as though you are in control again? That the inconsistencies have now stopped for United?
Ryan: We're unbeaten in nine games so that's not bad form, especially as we're talking about an inconsistent season. So we can still play better and we'll need to play better if we are going to win anything. I think both individually you look at yourselves and ask how you can play better and as a team as well but that's the case for the majority of the teams in the league.
Gary: Is there any one particular thing that you think you need to do better in terms of moving forward?
Ryan: Good question. I don't know really. I think you just try to go on a run and once you do you feel like you can beat anyone, whether that be playing well or whether that be getting them dogged results - those 1-0s. That just builds confidence and then if the team has to change then you are coming into a winning team.
Gary: What are the differences between this season and last season in terms of the managerial set up and the coaching set up?
Ryan: Just when I thought we'd got rid of one Neville, another Neville comes back! That's been a major change! Obviously it's a massive change with Sir Alex going. He was such a successful manager and the only one that I played under. But the gaffer's come in this year and of course he's got his own ways of doing things and the players have taken things on board. I've really enjoyed the training, I've really enjoyed the way the manager works and the inconsistent start is down to the players not playing as well as they can do. There were always going to be changes because the manager has been there for 20-odd years. The gaffer has come in and I think he's enjoying the challenge and now we are starting to get that consistency, I hope that we can build on.
Gary: So would you say that the players need to take responsibility for the inconsistent start?
Ryan: Now I'm a coach I think you've got to put it on the players! No, it's a mixture of the staff and the players - we win together and we lose together. Our early performances weren't good enough and now we are starting to see what the players are capable of. I think the manager is starting to see we're champions and why we were champions.
Gary:You've been part of teams that have navigated 13 Premier League title successes. Do you feel as though you are in control of steering this one over difficult periods and getting towards that title?
Ryan: I think it's that kind of crazy season where it's a case of staying calm if you lose a game and try to go on a run. That is how Championship winning teams win the league - they show that consistency and they show that form.
Gary:Which team do you see as your biggest challengers?
Ryan: I honestly don't know because there have been such big changes at our club, Mourinho coming back to Chelsea, City changing their manager - and I think that's shown a little bit; there's the stability of Arsenal, there weren't any major changes at Liverpool and they've got off to a relatively good start. There are a lot of good teams up there and teams that probably haven't shown the form that they are capable of.
If you want to hear more from Gary and Giggsy watch the video above and don't forget you can watch Cardiff v Manchester United live on Sky Sports 1 from 3.30pm on Sunday.