Justifying Joe
Joe Allen still has a part to play at Liverpool and criticism of the midfielder since his miss in the Merseyside derby has been over the top, writes Sam Drury...
Last Updated: 29/11/13 3:43pm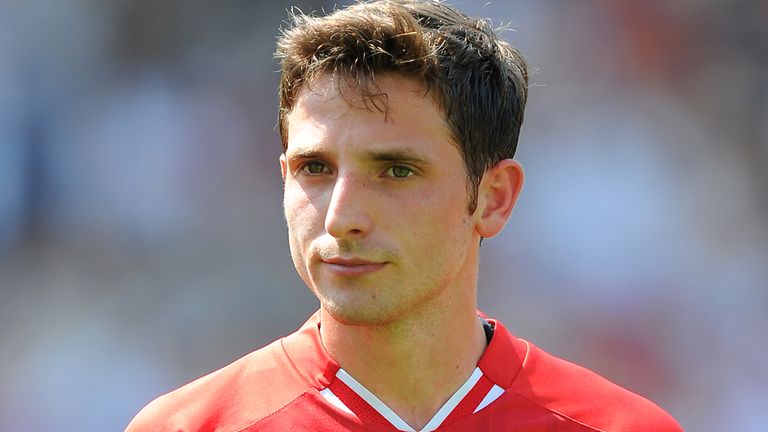 The look on his face said it all. That was the chance. The chance to put Liverpool two goals clear in the Merseyside derby, to answer his critics and, in all probability, to win the game. And he had missed it.
Joe Allen was clearly distraught, as shocked as everyone else that the ball had not hit the back of the net. In theory, he had done (almost) everything right. The ball arrived to him 10 yards out with just the goalkeeper to beat. He had not panicked; he took a touch, picked his spot and went for placement over power. He kept his composure and sent the ball past Tim Howard in the Everton goal. The problem was, he put it past the post as well.
It was a glorious opportunity and one that may well have secured all three points for Brendan Rodgers' side at Goodison Park. However, the criticism of the Welshman since has been incredible in its ferocity.
Allen did not have a fantastic game, neither was he unbelievably poor but his miss gave a section of Liverpool fans the chance to stick the boot in and cast everything about his performance in a negative light. Something many have not been shy of doing during the past 12 months.
After an opening to his Liverpool career that made the £15million fee paid to Swansea City seem if not a bargain, then certainly justified, injury and a loss of form - the former undoubtedly playing a part in the latter - have led to Allen becoming something of a scapegoat.
The midfielder was not helped by the fact he was viewed as the player that most encapsulated his manager's philosophy. He was Rodgers' representative on the pitch. So at a time when the manager himself was struggling to win round fragments of the Anfield faithful, Allen became the easy choice to bear the brunt on the field.
However, whilst Rodgers has won over the vast majority of Kopites in the months since, injuries have meant Allen has not had the chance to follow suit. His early showings in a red shirt have not been forgotten by all Liverpool supporters but they were a distant memory as early as December last year for others and they would argue that there has been little to jog their memories since.
Allen has not been helped by Liverpool's move away from the 'tiki-taka' style, the tactic he was brought in to help, since January but in recent weeks - a frenetic derby aside - there have been signs that the Reds may be moving some way back towards that model. A high pressing game is certainly more evident than it has been for the best part of a year and Allen can play an important part in making that work.
Indeed, whilst Jordan Henderson has impressed in the Liverpool midfield all season, pressing and harrying, both Steven Gerrard and Lucas Leiva have struggled to provide him with the support needed to make such pressure effective, certainly over 90 minutes.
Allen has the energy to better aid Henderson, with his experience at Swansea, pressing similarly, meaning it is a concept with which he is comfortable. This was shown against Everton as the Liverpool No.24 pressed well and with intelligence; rather than charging around leaving gaps left, right and centre as he went - something it would have been easy to get drawn into, especially in a derby.
Another aspect of his game that is very easy to overlook and is something no doubt picked up by working with Rodgers for a number of years now, is his ability to cut off passing lines for the opposition. In particular when Liverpool's initial press did not see them retrieve the ball and they had retreated back into their defensive shape, Allen was excellent in his ability to position himself to remove the option of a simple pass for an Everton defender.
His tenacity in the tackle is also regularly ignored due to his small stature but while he will never be a midfield destroyer Allen is not one to shirk a challenge. Neither is he a player who is easily pushed off the ball, indeed his 'body work' when on the ball is something his manager highlighted soon after his arrival on Merseyside.
The technical side of his game has never been in doubt. His passing is crisp, accurate and incisive whilst he is more than capable of driving forward with the ball at his feet. In a game where he was unable to show off these skills, perhaps it is not surprising that Allen is questioned. The other parts of his game go largely unnoticed and in an age where more and more of football can be measured by statistics, areas that Allen excelled in on Saturday remain unquantifiable.
Allen did not have a great match, the parts of his game that can be measured prove that. Just 25 passes with a 76 per cent completion rate, six tackles, successful in just two (although the definition requires the player to win the ball for it to count as a tackle at all, if the ball goes to an opponent though it is 'lost') and the stat most used to criticise him - one shot, off target.
He missed his big chance but whilst not brilliant, Allen was far from woeful. He put in an unspectacular but solid performance. The issue now is that if Daniel Sturridge is fit to start against Hull City on Sunday, Allen is the obvious choice to make way, with a midfield four of Lucas, Gerrard, Henderson and Philippe Coutinho appearing to be favoured by Rodgers at present.
That means that he may not get another opportunity to impress from the start for the best part of a month. Only when the busy Christmas schedule means rotation is almost guaranteed can Allen be relatively confident of starting again. There is, though, some hope for the diminutive playmaker.
Ahead of the derby, Rodgers suggested that Allen would be given his chance in the first XI and that he was in a good position to take it. After his derby disappointment the best solution may be to throw him straight back in when the Reds travel to Hull, a game they will be expected to win.
A good, or even decent, performance could do wonders for his confidence whereas being left to stew on his miscue for a number of weeks before taking the field again certainly would not. The game is one in which Liverpool will hope to dominate possession and could allow Allen a perfect chance to show what he is all about, pressing and passing with intelligence.
At just 23, Allen is still some way off his peak years. He has the quality and potential to become a valuable squad player for Liverpool, at the very least. First, though, he must be given a chance try to rediscover the form he showed in his first couple of months on Merseyside.
Home games with Norwich City, West Ham United and Cardiff City before Christmas could be the ideal games to let the Welshman find form. If he does, Rodgers will have a real selection headache for the crucial away games at Manchester City and Chelsea before New Year and Liverpool another valued midfield option. But for that to happen, Allen must make sure he does not fluff his lines when his next playing opportunity presents itself, starting at the KC Stadium.