Jose Mourinho must make Chelsea hard to beat again, says Alan Curbishley
Jose Mourinho needs to bring back the defensive strength of his first era, says Alan Curbishley.
Last Updated: 08/12/13 10:13am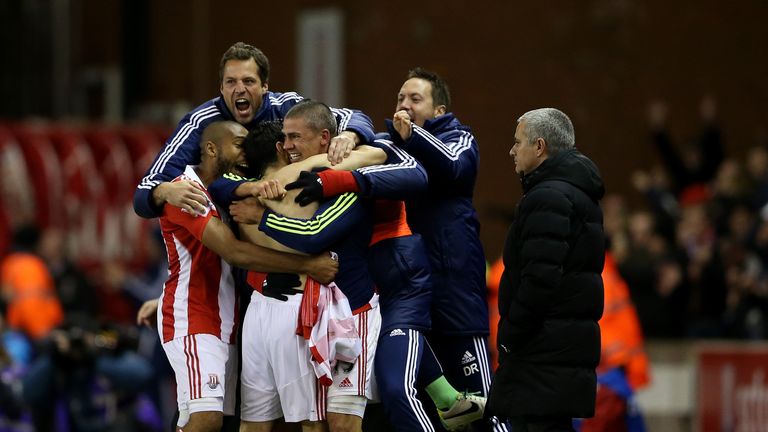 The Blues were left stunned when Oussama Assaidi came off the bench to score a superb winning goal as Stoke snatched a 3-2 win in the Premier League on Saturday.
The loss means Chelsea slip to third in the table, behind Liverpool, after a damaging defeat in the Potteries - their first to Stoke in the league since 1975.
Alan Curbishley joined Saturday Night Football Match Choice to discuss the defeat and the former Charlton and West Ham manager believes Jose Mourinho needs to try return to the defensive style he installed in his first era with Chelsea when he won two Premier League titles.
Curbishley said: "I think Jose and Chelsea might have to go back to being that hard to beat team as oppose to this free-flowing football that he's got from this midfield. He may have to start thinking about being a little bit more defensively minded because there's always a goal in this Chelsea side.
"I think when he first came in to the Premier League things were based on having a very strong defence and if Chelsea went in front they invariably went on to win the game. This season they're conceding lots of goals and I think that the inconsistency must be driving him (Mourinho) mad, because they can produce stunning football like they did in the first-half and sloppy defensive football and concede six goals in a week."
Title chances
After the game Mourinho was asked about his defence, having conceded six goals in back-to-back away games at Sunderland and Stoke.
"It's a big concern," said the Chelsea boss. "I don't organise my teams this way. Individual mistakes sometimes kill a team, and the way we work."
This loss leaves Chelsea four points behind leaders Arsenal (pre-Everton k/o) and Curbishley believes their lack of consistency reflects the Premier League on a whole this season.
"I think this match just sums up the Premier League at the moment. It was such an open game but Chelsea could of really finished Stoke off in the first-half, didn't and then Stoke were still in the game and took full advantage of it in the second-half.
"It was a fantastic game and what we're getting used to - wonderful goals.
"The other teams that are chasing Arsenal are quite inconsistent; Liverpool thumped West Ham and won heavily midweek but then go and lose at Hull.
"Man City can't get their away form going and the only consistent side has been Arsenal, take the first game of the season away when they got beat 3-1 by Aston Villa and they've been putting in performances week-in, week-out and I think now if we haven't been taking Arsenal seriously we're going to have to now."