Making a case
Matt Stanger reflects on a night where Phil Jones and Tom Cleverley made a case to be considered United's first choice midfield pairing in the absence of Michael Carrick through injury
By Matt Stanger
Last Updated: 11/12/13 11:08am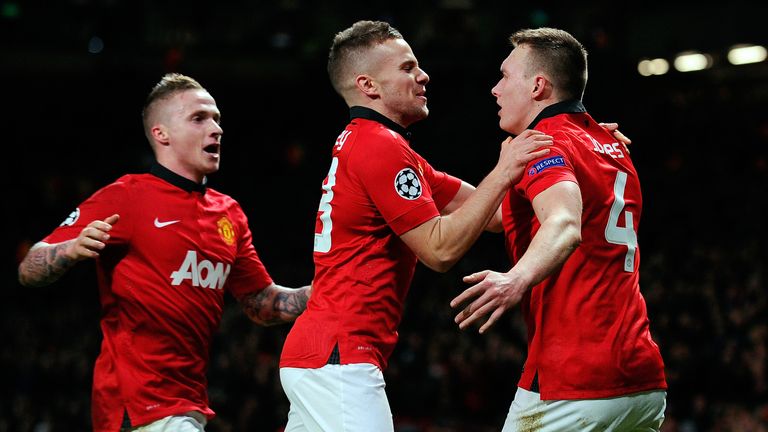 Manchester United survived a nervy first half to secure top spot in Group A with a 1-0 win over Shakhtar Donetsk, but David Moyes bore a look of contentment rather than relief in his post-match press conference. His half-time teamtalk and galvanising double substitution on 63 minutes brought the improved performance that was required after the break as the champions' Premier League problems once again faded into the periphery on another successful night in Europe.
United have not yet reached their peak in the Champions League - a fact Moyes readily admitted - but a record of four wins and two draws in the group stage, with only one goal conceded in the last four matches, is something to cherish, especially following two successive home defeats in domestic competition. Moyes even allowed himself a wry smile when asked why there is such a stark contrast between United's displays in Europe and the Premier League, responding: "If I had the answer, I'd have solved it by now and it would all be okay."
The manager was savouring his brief moment of respite as well as the good fortune that came United's way in the first half. Moyes repeated his assertion that United have lacked a little bit of luck recently in his programme notes - bemoaning the deflection on Yohan Cabaye's winning strike for Newcastle at the weekend - but he was aware that his team benefited from some particularly wasteful Shakhtar finishing to grind out a narrow victory.
"We didn't play too well in the first half and we were fortunate not to go a goal down," said Moyes of a match where a win for either side would have seen them top the group. "(Shakhtar) have some really talented front players. They gave us the most problems (in the group)."
Indeed they did, as Mircea Lucescu's side broke at will in a frantic opening 45 minutes that resembled the 'football carnage' Gary Neville demanded from United on Sky Sports Monday Night Football. The only problem was that the mayhem came in United's defence, with Rio Ferdinand and Ryan Giggs losing possession in dangerous areas to allow Alex Teixeira and former Chelsea target Taison to steam through. That just three of Shakhtar's 17 attempts tested David De Gea tells the story of their night as they paid the price for failing to win any of their four matches against United and Bayer Leverkusen, to whom they suffered a 4-0 defeat in October.
While Moyes's changes allowed United to wrestle back control in the second half as Shakhtar, whose domestic season finished last week, rapidly faded, he will still be worried that his team struggled to create chances, requiring another set-piece to score the only goal of the game. "I'm not concerned about scoring goals from set-pieces," he said after the match. "But the point is correct. We want to score more from open play. I think Ash (Young) had a good chance...two good chances actually."
The pause indicated why Moyes chose to curtail another pantomime performance from Young shortly after the hour mark and it was difficult to tell whether the fans' enthusiastic applause was for the winger's exit or Robin Van Persie's introduction. It was Moyes's other substitution, however, that yielded the greatest response from his team, as Tom Cleverley replaced Ryan Giggs to provide more balance, vision and energy alongside Phil Jones in the United engine room. All qualities that the 24-year-old must begin to show more regularly.
It was in midfield where United were predictably lacking in the first half, neither creating or defending in the manner in which the Old Trafford crowd have become accustomed. The driving force of Jones offered occasional relief from the dithering farce Shinji Kagawa, but it was not until Jones dropped deeper following Cleverley's introduction that United really gained a handle on the game.
Although this pairing failed to provide the impetus United required against Newcastle, it worked well in the 2-2 draw against Tottenham in November and started back-to-back 4-0 and 3-1 victories over Norwich (in the Capital One Cup) and Fulham earlier in the campaign. With Giggs no longer a consistent influence and Marouane Fellaini struggling to make an impression following his £28million move in the summer, it would seem that a central partnership of Cleverley and Jones is perhaps the most convincing option for Moyes in Michael Carrick's absence.
The possibility will of course remind the manager of the need to strengthen in January, but Jones's performances in particular have been a rare bright note in his reign thus far. "His long-term future will be as a centre-half, but he's doing a job for us in midfield just now," said Moyes after Jones' match-winning display and, at the moment, it is difficult to see when the England man will be allowed to return to his natural position. "The one I've always said I wanted to play is centre-back," said Jones of the debate over his role. "But if I keep playing in centre-midfield then I'm happy to do that because as long as I'm playing for Manchester United, that's the main thing."
Moyes will have been encouraged by Jones's telling contribution as United recovered in the second half, while he should also be satisfied with his decisions in a victory that owed much to the manager's changes. "We all know we as a team have to improve," was Moyes' consistent message after the match and against Shakhtar there were signs that the team can escape their recent slump. However, following two defeats in a week that prompted the manager to blame the 'small things' that conspired against United, he would do well to remember that he made his own luck on Tuesday. More of the same will be required at Aston Villa on Sunday.