Toure masterclass
Liverpool centre-back Kolo Toure explains the key skills in defending, underlines the importance of anticipation and remembers what it was like to take on Shearer while learning from Keown and Campbell
By Peter Fraser - Follow me on Twitter @SkySportsPeteF
Last Updated: 21/04/14 12:55pm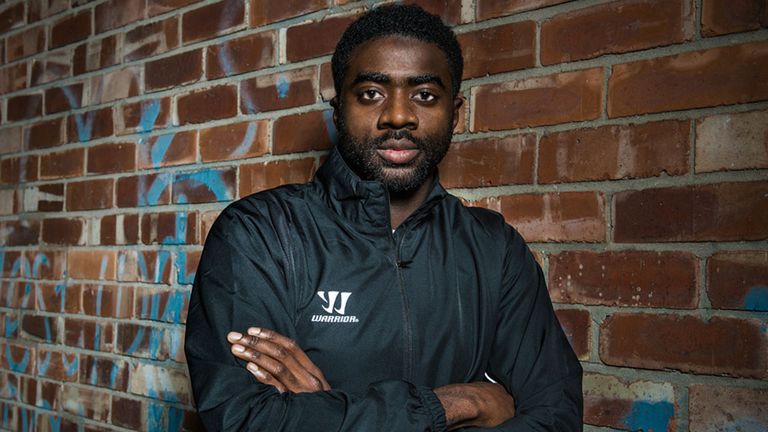 It had been questioned whether former Arsenal and Manchester City star Kolo Toure would still be capable of top-level performances following his summer move to Liverpool after he arrived at Anfield at the age of 32. However, the centre-back has silenced his critics in the perfect style.
Toure has been demonstrating all of the class, skill and experience which helped him to the unique position of winning the Premier League title at both of his previous clubs, including as a member of Arsenal's Invincibles in 2003/04.
They are attributes which mean the Ivory Coast international remains among the best defenders in England's top flight. Here, Toure - who will wear Warrior's Skreamer Pro Boot after joining Warrior Football - gives Sky Sports an exclusive insight into the art of his trade, the importance of anticipation, and what it was like to try and stop Alan Shearer.
What are your strengths as a centre-back?
"I like to read the game. I like to anticipate things on the pitch. It is very important. If you can judge what is going to happen before a striker can make his decision, you can stop him from making a shot or a pass. Defenders always have to react but it is important first to try and anticipate what you are going to do. If you are always reacting, you are always late to the ball or the man. I also like to be quick."
Have you had to adapt your defending game as you have grown older?
"For sure, you always anticipate the game better as you get older. But even when I was young, I used to try to be as quick as possible in thinking. When you think quickly, you can react quickly when the striker is deciding whether to take a shot."
How important is it to know your opponent's strengths and weaknesses?
"If you know that he is good at shooting with his left foot, you can block his left foot and force him onto his right foot. It is very important to know the striker in order to give you an advantage in the game."
Is it key to start a game with a positive physical challenge to let the opposition striker know he is in for a tough match?
"You do have to be strong with players on the first challenge. But I am not sure about that if you play against a player like Luis Suarez, because if you hit him as hard as you can in a challenge he will still come back (laughing)!"
Who are the toughest strikers you have played against?
"Alan Shearer was really clever. He did not need to beat you to score a goal. He would open up the space and shoot so it was difficult sometimes. But I always say the most important thing is for me to be on my game and if I am at my best, I can cope with anybody."
Do you need to have good communication with your centre-back partner and a strong relationship with your team-mate off the field?
"It is really important, because as centre-backs you work like a pair. You need to have communication and for both of you to be a little bit different. If one defender is really tall, he can go to challenge for the first ball. For me, I have to be alert and quick to react to the second ball."
Does that change when Liverpool have played with a three-man defence at times this season?
"When you play three at the back, you need two players who are strong and can go in contact with challenges. You then need one who can anticipate the ball in the space."
What did you learn when you first came to England and you were with Arsenal's Invincibles with the likes of Sol Campbell and Martin Keown?
"I will always be proud and happy to have worked with those players. They were so helpful for me. I was so lucky to play with a defender like Martin. Both he and Sol were unbelievable defenders and they helped me, talked to me and tried to give me advice before and after the games. I really enjoyed playing with them and still talk to them. Martin came to Liverpool recently and was talking about how to defend, anticipate and react. I was really happy."
Kolo Toure has been announced as the latest player to join Warrior Football. Toure will wear Warrior's Skreamer Pro Boot. For more information, visit warriorfootball.com