Targets: Spain
With the January transfer window upon us, Sky Sports' Spanish football expert Guillem Balague gives his verdict on five stars from La Liga who could attract attention from Premier League clubs.
By Adam Bate with Guillem Balague (video by James Crosby)
Last Updated: 30/12/13 11:08am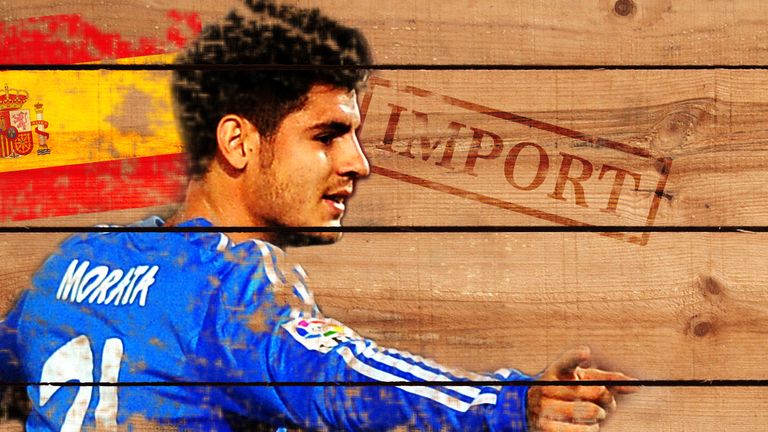 Guillem Balague is football correspondent for Madrid-based Spanish daily newspaper AS and talks La Liga matters for Sky Sports on Revista de La Liga. We caught up with him get his expert verdict on five stars from Spain who could be making the move to the Premier League.
Alvaro Morata
Age: 21
Nationality: Spain
Club: Real Madrid
Position: Striker
Good fit for: Arsenal; Chelsea; Tottenham
The word:
"I only think about succeeding at Real Madrid," Morata recently told AS but there are plenty of other clubs eyeing the young striker. The top scorer at last summer's European Under-21 Championship, Morata has netted more La Liga goals than he's been given starts this season as he's been forced to settle for late cameos from the bench. Arsenal and Tottenham have both been linked with a move for the youngster and could offer more regular first-team opportunities.
Guillem's expert view:
"There continues to be a lot of talk about Morata. He is not leaving in January but I think anybody who wants to sign him will start to try and convince him now because at the end of the season he's got to make a decision. Real Madrid are going to try and sign a big striker in the summer which means he still won't have the chance to be the No.9 there. Like Alvaro Negredo, Roberto Soldado and so many others who left Real Madrid due to lack of opportunities, he should do the same. He would be available for €10million to €12million with an option for Real Madrid to get him back."
Opta stat: Alvara Morata has already equalled his best ever La Liga goal tally this term (two).
Cristian Rodriguez
Age: 28
Nationality: Uruguay
Club: Atletico Madrid
Position: Winger
Good fit for: Newcastle; Southampton
The word:
Rodriguez is yet to start a Primera Liga game for Atletico this season with all nine of his appearances coming from the substitute bench. But he showed his qualities with a fine goal on the opening weekend of the season at Sevilla and the former Porto player is a target for Premier League clubs. "We are working with a very important offer from England," Rodriguez's agent Daniel Delgado told AS in November. "But although I cannot say from whom, I think he will continue at Atletico until June, then he could be leaving. He is not unhappy, because if not, he'd be gone."
Guillem's expert view:
"He would be the perfect winger or second forward for a mid-table team in the Premier League. He would cost around €6million and I've got the impression that Atletico Madrid may be willing to let him go as he's not playing regularly. He's fast and very committed. He's not a winger as such but he likes to come inside and he's very direct. Although he hasn't had many opportunities this season in the big games, he is someone who has enough to quality to impress for a mid-table Premier League side."
Opta stat: Cristian Rodriguez has not started a league game for Atletico Madrid since June.
Nacho Fernandez
Age: 23
Nationality: Spain
Club: Real Madrid
Position: Right-back
Good fit for: Everton; Liverpool; Tottenham
The word:
Nacho is regarded as a back-up defender at Real Madrid having started just two La Liga games for the club this season but remains highly thought of at the Bernabeu and made a surprise debut for Spain against Switzerland in September. National team boss Vicente Del Bosque explained his reasoning by telling AS: "He must have something for Mourinho to take him into the first team at Madrid and for Ancelotti and Zidane to have kept him." Fair enough.
Guillem's expert view:
"He would be a great squad player for an Everton, a Liverpool or a Spurs. He could play at right-back or at centre-back. He's versatile, he can play on the ball and he's strong. He's a good defender in terms of his anticipation and he's clever. He could be like an Alvaro Arbeloa who leaves Real Madrid early in their career and then comes back later as a stronger player. He could go for €3million to €4million."
Opta stat: Real Madrid have not lost a league game over the last two seasons when Nacho Fernandez has played (P13 W9 D4).
Tiago Mendes
Age: 32
Nationality: Portugal
Club: Atletico Madrid
Position: Midfield
Good fit for: Everton
The word:
Tiago played 34 games in Chelsea's Premier League winning season in 2004/05 and is now enjoying something of a renaissance at high-flying Atletico. He credits Diego Simeone for transforming the fortunes of everyone at the club. "We were in a very bad place, and he changed a lot of things," Tiago told L'Equipe. "He doesn't let us slack off a single minute. It worked because we won the Europa League and when you see that it works, you're ready to follow your coach forever." But with just six months left on his deal in the Spanish capital, forever might not be so long after all.
Guillem's expert view:
"He is playing the best football of his career. He has said himself that he doesn't run so much these days but he is more intelligent in the runs that he does with and without the ball. It helps that he's part of a team that is really well structured because he doesn't have to be all over the place. He's probably the most balanced player at Atletico Madrid in terms of what he does with and without the ball. He's having a great season but he's out of contract in the summer."
Opta stat: Tiago has participated directly in three goals this season (two goals, one assist) with all three coming on home soil in the first 20 minutes after half-time.
Raul Garcia
Age: 27
Nationality: Spain
Club: Atletico Madrid
Position: Forward
Good fit for: Liverpool
The word:
Garcia has long been a player who has interested Premier League clubs with Everton, Liverpool, Newcastle and Fulham all linked with the Spaniard in 2012, but his stock has risen since then with coach Diego Simeone a confirmed fan. "Having Raul on the field allows us to play a better passing game," said the Atletico boss earlier this season. An opening day brace set Garcia on his way and he is the club's second highest goalscorer this season behind Diego Costa and ahead of illustrious team-mate David Villa.
Guillem's expert view:
"He is another one whose contract runs out at the end of the season. He used to be a midfielder but now he's moved further forward. He's the perfect nine-and-a-half. He's not a No.9 but he's not a midfielder now either so he doesn't get involved much in the build-up but he comes from deep to create danger. He's a hard worker when he hasn't got the ball and he's a great finisher with his left foot as he showed against Valencia recently. He would be a great addition for someone."
Opta stat: Raul Garcia has scored a goal more frequently than any other player born in Spain in La Liga this season (one every 89.7 minutes).