Sacking Sam Allardyce will see West Ham relegated, says Jeff Stelling
Sacking Sam Allardyce will only result in West Ham's weak squad being relegated, says Jeff Stelling.
Last Updated: 09/01/14 4:19pm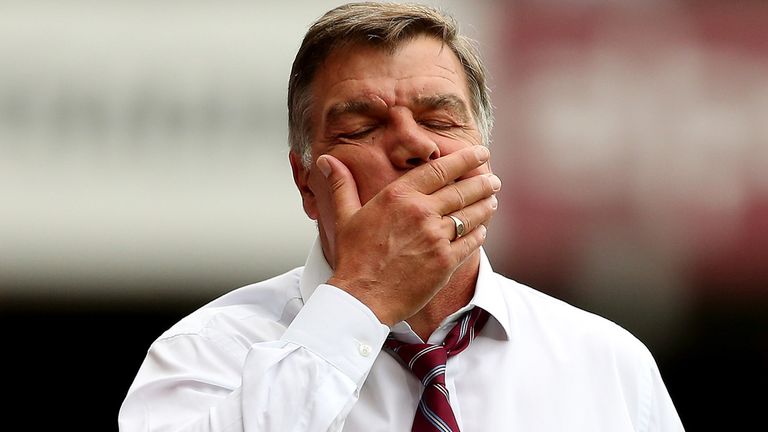 If you look at the statistics, they've conceded 22 goals in six games and they've lost 5-0 and 6-0 in their last two matches against Nottingham Forest and Manchester City.
The constant cry from everybody involved with the club is 'look at our injury list' - but I think they've become blinded by that. The truth of the matter is, yes, they have a bad injury list - but even with most of those players fit the squad is not good enough.
I look back at when they lost at home to Stoke in August. On that day James Collins and Winston Reid both played and James Tomkins was on the bench but they lost at home. It was a similar story at home to Everton in September. Even with their best players out playing they were still being beaten.
I'm not saying if they had a full strength squad that they would be suffering defeats of the sort of magnitude they are now but I still think they'd be struggling.
People look at the front players and point to the absences of Andy Carroll and Ricardo Vaz Te. Let's get this straight; Vaz Te has been a bit part player all along the line. Last season he scored three times in 24 Premier League games; this season two goals in seven Premier League games. Would he really have changed your season if he was fit?
Andy Carroll is someone who's greatest gain has come from not playing because everyone keeps talking about how much they're missing him. Yes, of course they do because he creates as well as scores - but he has only scored seven goals in 24 Premier League games for West Ham. And if you look a bit closer, one of those was a penalty and two of them came in the last few minutes of games that were already lost.
I just think that purely blaming the injuries is a smokescreen and things go a lot deeper than that. If you look through their squad you see a horrendous lack of strength and depth. I'm sure Sam has been aware of that and has tried to rectify it but hasn't been able to.
Not enough
The senior players need to look at themselves as well. People like Kevin Nolan, Stewart Downing, Matt Jarvis and Joe Cole have failed to deliver consistently. We've seen flashes from them, but not enough.
By the way, if you're going to point the finger of blame at Sam then it's worth bearing in mind that he didn't buy all of these players. They gambled so much on Andy Carroll, but was that purely Sam's decision?
Maybe the owners have taken their eye off the ball a little bit because of the move to the Olympic Stadium, but there just hasn't been enough financial clout. The difficulty for them now is that, as we all know, January is a difficult time to buy. But they simply have to.
Are they going to trust Sam with that money? Again, I think they have to.
If you sack the manager halfway through the transfer window then by the time you bring anybody in - even if you have someone in mind - the window will be closed and you will be stuck with exactly what you've got.
I understand the West Ham fans' impatience but in my view there would be no benefit in sacking Sam now. I think all it would do would make it almost inevitable that they'd be relegated. Just look at Newcastle United a few years ago; the fans acted in haste and regretted at leisure when they got rid of him.
I'm not an apologist for Sam by any means. If the owners stick with him and invest in him with some funds then he has to produce over the next few months.
However, I don't understand why David Gold and David Sullivan felt the need to put out a letter to the fans earlier in the week. It almost undermines the manager in some respects by the fact they felt the need to do it. They might have given him a vote of confidence but in truth they're admitting they have concerns. It doesn't do anything for the manager's position at all.
In their defence, I think Sullivan, Gold and Karen Brady have the club at heart and it's worth remembering that West Ham was in one heck of a mess financially when they went in. They have effectively sorted things out and for all intents and purposes they overachieved last season. They got some fantastic results, built upon a rock-solid defence but they've just not been able to produce it again this season. Maybe it's second season syndrome?
They're in a terribly difficult situation now and it's one they wouldn't have anticipated being in. The only thing they can do now is guts it out and stick with what they've believed in.
I know it won't make me popular with the West Ham fans but I just think the alternative now is unthinkable and won't advance their case at all.
They've got to rely on Sam to put things right.
JEFF'S GEM OF THE WEEK
To go away from home and win at a Premier League side means Sheffield United are my Gem of the Week. It was their first win at Villa Park since 1966 and Nigel Clough has quickly gone in there and sorted them out - one defeat in their last 10 games in all competitions. I think his approach is probably a bit more pragmatic than some of the managers that have come before him and they thoroughly deserved the win.
Villa seem to be unable to play in front of their own fans for some reason and I don't think it had anything to do with all the stuff beforehand with Paul Lambert saying the Premier League was more important than the FA Cup. I think all he was doing was saying what every Premier League and Championship manager believes. For me, he said nothing wrong and he didn't demotivate his side - it's just that on the day they came up against a well-drilled Sheffield United side who had the resilience to come back once Villa had got level. A big well done to United and Nigel Clough.