Lessons for Liverpool
Liverpool looked set to move four points clear of fifth-placed rivals Everton on Sunday, only for a Kolo Toure error to gift West Brom a share of the points in a 1-1 draw. Adam Bate was at The Hawthorns and offers his assessment on a curate's egg of a performance.
By Adam Bate at The Hawthorns
Last Updated: 03/02/14 7:31pm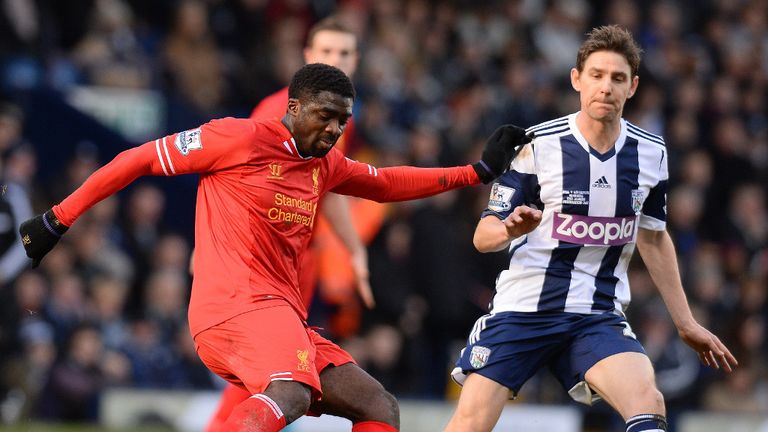 Booed onto the pitch by the visiting supporters, it had to be Victor Anichebe. The former Everton striker seizing upon a Kolo Toure howler to ram the ball home soon after coming on. It was enough to cancel out Daniel Sturridge's first-half opener and earn Albion a point in a game that Liverpool had threatened to turn into a Sunday afternoon stroll. A need for goals from midfield and better passing out from the back are just some of the issues raised from this mixed bag of a Liverpool performance...
Passing conundrum
The football played by Brendan Rodgers' Liverpool since he took over has been a huge source of pride for a club steeped in such traditions. As a result, the Reds boss knows he must take incidents like Toure's brain freeze on Sunday on the chin. One mistake isn't going to change the way he sees the game. He was unequivocal in his post-match press conference.
"Sometimes it's the price you pay when you try to play football," said Rodgers. "I've said to the team that over the past 18 months we've got into the position we are because we've shown the bravery and the courage to build the game from the back. Unfortunately, for the first time this season, we've been punished for that. There's no blame. He's had the courage to receive the pass."
When asked whether a certain pragmatism might be required, the question had barely tumbled from the reporter's lips before Rodgers replied. "No," he said firmly, allowing the solitary word to linger in order to emphasise the point. "You'll be the same guys who sit at World Cups and talk about British teams not playing football. And then you wonder why. These players, especially defenders, have that courage to play."
He's right, of course. Just because the implementation was shoddy against West Brom doesn't mean the ideas behind it should be abandoned. But the two points dropped as a result of Toure's error do raise certain issues. Principally, if the manager is so committed to a tactic of playing out from the back, why does he not employ defenders who are comfortable on the ball?
In truth, Toure is arguably the most composed of the current Liverpool back four. Jon Flanagan is still learning, Martin Skrtel might be generously referred to as 'limited' in his work, while Aly Cissokho is best described as having a difficult relationship with the ball when it is fired in his general direction. Sunday's error was a moment of madness but it was not a complete shock.
Baggies boss Pepe Mel revealed as much in his own comments to the assembled media afterwards. "We forget in the first half, the way," said Mel. "Because we press - high press - with Berahino and Vydra on the centre-backs and behind Gerrard and (Jordan) Henderson were free. A problem for us. In the second half, two strikers, high press. This is the way. If you remember, the goal was high press together with Vydra and Gera together. Then a bad pass. This is the way."
Mel has barely been in the country a fortnight but his tactics were able to expose a weakness. Other managers are likely to target Liverpool in this area too. Cissokho's pass completion rate of just 58 per cent was poor, while Toure surrendered possession on eight other occasions besides his error for the goal as Albion isolated him to deny passing options. As Rodgers indicates, there is no suggestion that a philosophy should be affected as a result of one mistake. But don't be surprised if the manager privately harbours concerns over the ability of his defenders to play the sort of football he demands.
Gerrard, the centre-back?
One solution to the challenge of getting quality on the ball from deep areas has been for Gerrard to drop deep. The Reds captain frequently received the ball in defensive areas as the centre-backs split and this could hint at a future role for Gerrard as a defender himself. Indeed, Rodgers mooted the idea in November. "I look at Steven and I think he can play as a number two centre-half later in his career," he said. "You play against teams where they've got one up and I think he can play as a right-sided centre-half." He might be even more tempted after Sunday.
Where are the goals from midfield?
Of course, Gerrard being so deep does rob Liverpool of his qualities further forward. His tally of six Premier League goals this season is twice as many as any Liverpool player other than the two strikers. But in his new role against West Brom he had just three touches within 30 yards of the opposition goal - and two of those were as the corner taker.
Joe Allen is yet to score, Henderson has one to his name, Philippe Coutinho two and Victor Moses is looking - how should we put it - unlikely to reach his self-imposed 20 goal target. Even Raheem Sterling has netted just three goals in 19 games despite his advanced position, and that puts an awful lot of responsibility on Luis Suarez and Sturridge.
Perhaps Yevhen Konoplyanka - a played with eight goals from 19 games so far this season - could have addressed this issue. However, the Ukraine international remains with Dnipro Dnipropetrovsk after a high-powered Liverpool delegation failed to conclude the transfer. Rodgers refused to criticise the deal-makers at Anfield but his comments in the post-match press conference were nevertheless intriguing.
"We are very much together here as a club. I'm very conscious that whatever frustrations I have, I'd never let you guys know," he said. "This is a football club where we stay together. We'll never be broken by stuff that'll be written in papers. I'm the type of person who, if I have an issue or a problem, I don't need to ring up journalists and give them little snippets to talk about. If I have an issue, I'll talk to the owner but I'll be diplomatic. It certainly wouldn't be in public." A fine example of how to make a point, without making a point.
Selfish is as selfish does
As it is, Rodgers has little choice but to continue to rely on the Sturridge and Suarez partnership to fire Liverpool to success this season. There are worse problems to be had. After all, the pair have developed into a formidable duo. There has been recent speculation that selfishness remains an issue between them but there was little sign of that at the Hawthorns. In fact, there was an almost self-conscious desire to seek out the other - complete with apologetic hand gestures when the interplay failed to come off.
Sturridge had put Suarez clean through on goal in the early stages, only for the Uruguayan to check back inside and squander the opportunity, but the favour was then returned for Liverpool's goal. Suarez picked out his strike partner through a wall of four West Brom players for the England international to pass home from close range for his 28th Liverpool goal in just 35 appearances. It means that the pair now have 10 Premier League assists between them this season - two more than the Sergio Aguero & Alvaro Negredo combination. Not bad for a couple of so-called selfish players, eh? If Toure's error proves to be a one-off, it could yet take them far.