McGuinness & Moyes
Whilst it's wrong to label David Moyes a modern-day Wilf McGuinness there are interesting parallels to be drawn. Alex Dunn looks at the latter's ill-fated stint as Matt Busby's successor and relates it to Moyes' current situation with Sir Alex Ferguson at Old Trafford
By Alex Dunn - @skysportsaldunn
Last Updated: 07/02/14 4:00pm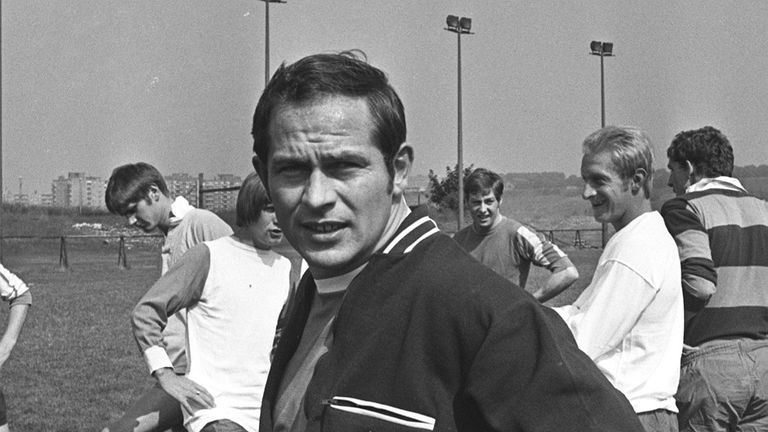 You'd better wear a tie in the morning. On £80-a-week the new manager had no excuse not to look the part. 31-years-old and a 6/1 shot. 31-years-old and still one of the boys. Still a boy. 31-years-old and a coach. Not a boss. A coach. A coach of kids. Best, Law and Charlton were many things in 1969. Kids they were not. 31-years-old and manager of the biggest football club in the world.
You'll be fine said Matt Busby. But you'd better wear a tie. Wilf McGuinness wore a tie the next day, but not before first tipping off a mate over who was to succeed Matt Busby at Manchester United. The bookies took a beating. With time, so did McGuinness.
Don Revie, Jock Stein, Wilf McGuinness.
Jose Mourinho, Pep Guardiola, David Moyes.
Sir Matt and Sir Alex.
In Wilf McGuinness' only full season as Manchester United boss the club finished in eighth place and reached the semi-final stage of both the League and FA Cup.
On Boxing Day 1970, McGuinness was finished. Busby was back.
Memories passed through the filter of time create portraits as paintings not photographs, the truth oft found in the grey area between disparate anecdotes, but by his admission McGuinness concedes the job was too big for him.
There is no better line written on McGuinness' Old Trafford tenure than Eamon Dunphy's: The torch had been passed on. Wilf grabbed the lighted end.
With every trumpeting denouncement of every fresh defeat there are those that look at David Moyes and think of Wilf McGuinness. The stress of the job cost McGuinness his hair and while it would be disingenuous to say Moyes is feeling the weight of expectation to a similar degree, the fixed grin that has accompanied post-match autopsies has looked as unconvincing as an ill-fitting toupee.
A comparison of the anointed ones has been a reoccurring trope for the written press all season, each trying to make sense of what it must be like to attempt to cast your own shadow when a predecessor's still looms large. For Moyes the omnipresence of Ferguson remains total. A match day experience sees him circumnavigate Sir Alex Ferguson Way, before he passes the bronze bust that guards Old Trafford and finally, takes to the field to patrol a touchline that stares into the mouth of the Sir Alex Ferguson Stand. Sir Alex, in flesh and bone, gives an encouraging wave from his seat in the gods.
In 1969 Sir Matt was still 27 years shy of being immortalised in bronze. At 59 he had 12 years on Ferguson's retirement date and in his new role as 'general manager' had no intention of watching United as 'supporter' - no more, no less - as stated by Sir Alex this week. Busby was moving upstairs but not to smoke his pipe in peace. Rather his role, showing remarkable prescience, was to all intents and purposes to encompass the duties of a modern-day director of football.
"It's time to make way for a younger man...a track suited manager. United is no longer just a football club. It is an institution. I feel the demands are beyond one human being."
It's here where any comparison between Moyes and McGuinness, before a ball has been kicked, faces the accusation of being convenient rather than illuminating. If these two represent a school of thought it is perhaps of coincidence.
Jim White's (the writer, not he of the yellow tie) excellent biography of Manchester United, The Complete Story of the World's Greatest Football Club, makes explicit that this was the proverbial master-pupil relationship. Squint your eyes and you can make out the strings.
"He was 31-years-old and trusted with virtually nothing. Busby was to be general manager. He would be in charge of transfers, dealing with the board, talking to the press. You could see Busby's thinking here; Wilf had no experience, he needed help, a shoulder to lean on. It was the Continental way, after all. But that wasn't explained to Wilf. He was just told this is what would happen. For his troubles he was to get £80-a-week. Busby had just retired on £200. No one asked him what approach he might bring to the job, or which players he might like to sign. No one asked him whether he was happy with the terms or conditions. No one asked him if he even wanted it. In the United way, he was just expected to get on with it."
Moyes is no McGuinness. To give context to the appointment of the latter you could say, generously, that it would be the equivalent of Mike Phelan succeeding Ferguson. At 19 years his senior, with 15 years managerial experience in the locker (including nigh-on 500 top flight matches) to McGuinness' zero, it is, frankly, a stretch to suggest United failed to heed the lesson of yesteryear, 1969 to be precise, in their appointment of Moyes. With respect to McGuinness, a hugely affable, universally liked and quick witted man, he was always Busby's stooge. To go from drinking with United's stars one day to reprimanding them for the act the next was only ever to end one way. He did well to see out 18 months of a three-year deal.
And yet, the parallels between the two eras, whether simply quirks of fate or otherwise, have a resonance today too delicious to ignore.
After all, if you listen hard enough you can just about make out the echo of 1969 over David Moyes' voiceover: "It was a really strange situation for me, I had no idea whatsoever. A lot of people think I knew something about it. I knew nothing at all about it until Sir Alex gave me a call, and asked me to come to his house. I was expecting him to say 'I'm going to take one of your players' or something else, I wasn't sure. We went in and the first thing he said to me was 'I'm retiring'. I said 'Yeah, when?' I mean, he was never going to retire was he? But he said 'next week'. His next words were 'and you're the next Manchester United manager'. I didn't get a chance to say yes or no, I was told I was the next Manchester United manager by Sir Alex, for me that was enough."
Herein lays the problem. McGuinness was told. Moyes was told.
You couldn't have told Don Revie or Jock Stein in 1969. You couldn't have told Pep Guardiola or Jose Mourinho today.
You need absolute authority to manage Manchester United. Busby had it, Ferguson had it. Revie and Stein had it. Guardiola and Mourinho still do. McGuinness didn't, does Moyes?
McGuinness asked for Colin Todd, Malcolm McDonald and Mick Mills to strengthen a side that finished 11th in the season prior to his appointment. Busby gave him Ian Ure. It's like turning up for a date with Naomi Campbell and being seated opposite Kevin Campbell.
In this respect McGuinness was the unfortunate anomaly. Even amid accusations Busby continued to have the collective ear of the club's directors long after he'd retired his tracksuit, it would be unfair to suggest United have not from McGuinness onwards backed managers generously in terms of recruitment. For all the furore over what new chief executive Ed Woodward did or did not do over the summer, there has been no suggestion that Ferguson's prints are on either the signing of Marouane Fellaini or Juan Mata.
History has though repeated itself in terms of the delicate issue of inheritance. A Ming vase out of keeping with a minimalist setting can be given a home under the stairs but when the deceased still regularly pop in for a brew it becomes more problematic, as McGuinness found Busby was prone to do when enquiring with a steely look in his eye as to the whereabouts of any of his Babes missing from a team-sheet.
"Matt still had the power. He said he was standing down, but he hadn't surrendered control."
McGuinness felt his squad needed a facelift with age not on the side of two of the Holy Trinity. Bobby Charlton was 32 by this time and Denis Law, 29, was struggling with injury. George Best, still just 23, was more professional playboy than player. Without Busby's steadying influence the Ulsterman had become almost a parody of himself; one which McGuinness just couldn't handle.
The force of personalities housed in a squad that just a year prior had been the finest side in Europe would have tested the most hardened of managers. A rookie was doomed from the onset. Senior players, several of whom had years on him, called for Best to be reprimanded for lifestyle choices that were consuming to the point that he announced his retirement at the campaign's conclusion.
McGuinness would say of his star man: "George was without doubt a genius. But it was the time of the Beatles and he was the first footballer to be treated like a film star. He was a great looking guy and he had the kind of adulation that no-one had experienced before. We don't know how we'd handle it, so who are we to judge a lad in that position?"
McGuinness' attempts to stamp his authority on the dressing room culminated with an unfortunate incident in which he made the more genial Charlton do press-ups in front of his team-mates. Think Brent holding a lead balloon. Best would later return to coincide with Busby's own second coming. "I never respected Wilf in the same way, but I liked him," he said years later.
It's a sentiment echoed by Pat Crerand, who like Best played under both managers.
"People have spoken about that team being on the slide, but there were still young players around and George was only 23. The real problem for Wilf was that many of the players were his pals and former team-mates, so it was very difficult for him to make the transition to manager.
"When Matt was in charge, he only had to tell us to jump and the reaction was "how high?" I think Wilf found it tough to gain complete control of the team in the same way, though, and managing proved to be a different challenge altogether to coaching, which he was always terrific at."
Patrice Evra, Nemanja Vidic and Rio Ferdinand are not the Holy Trinity Mark II but that Moyes will likely have to replace all three, at the same time, over the summer is a daunting prospect. They have 16 Premier League winners' medals between them. Let's not even mention the midfield conundrum.
For the problems with how to handle Best, read the problems with how to handle Rooney. That's not to cast aspersions on the latter's professionalism but as Ferguson will readily attest, United's current star man is not an easy player to manage.
Making Rooney privy to his transfer plans is a novel, if not entirely unique, piece of man-management and whilst it's been criticised widely it does at least demonstrate he is willing to go against Ferguson's assessment of a player's usefulness to the club.
Frank O'Farrell, who took the reins from Busby for the 1971-72 campaign after the Scot had decided his interim return to the dugout after giving McGuinness the hook would be just that, lasted just 18-months. The Irishman's relationship with Busby was fraught, describing he who rubber-stamped his appointment as a 'nasty, vindictive' man whose persistent meddling made his job all but unworkable. Pitching up to his first day at work he found Busby occupying the manager's office.
"I told him, sorry he had to move. It was quite a thing to say. But I knew I had to make my position clear from the start."
This isn't to paint the late Busby in an unfavourable light. After building three imperious Manchester United sides against a backdrop of tragedy that would have retired the spark of all but a truly great man, it stands to reason that to pass an empire carte blanche to a manager bereft of the uniqueness he saw every day when he fixed his tie in the mirror would cut to the core. It was not until 1986 with the appointment of Ferguson that he would be able to smoke his pipe in peace.
Time will tell how long it will be before Sir Alex can do likewise with a nice glass of red.