Football Podcast
Matt Stead and Adam Bate join Ben Ransom to talk about the weekend in football. Liverpool's title tilt, Wayne Rooney's deal, the relegation battle and the Euro 2016 draw are all discussed.
Last Updated: 24/02/14 1:39pm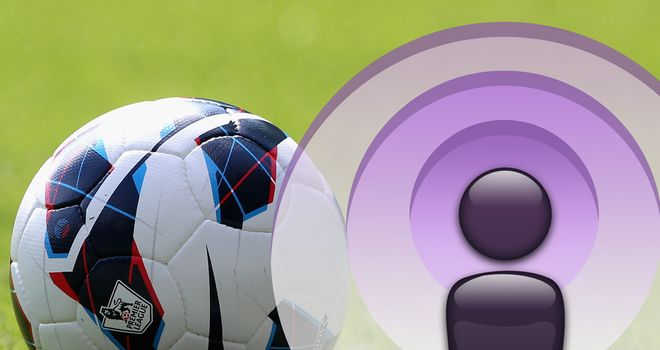 Sky Sports News Radio presenter Ben Ransom hosts this week's Football Podcast and is joined in the studio by TEAMtalk.com's Matt Stead and Sky Sports' Adam Bate as they look back on the big talking points from this weekend's games in the Premier League.
BRILLIANT BRENDAN!
The trio begin by discussing Liverpool's pulsating victory over Swansea on Super Sunday, with Adam stopping just short of saying that the title race has swung in the Reds' favour. Matt insists that, as a squad, they have proven their title credentials over the season, while both men wax lyrical over Matt's standout candidate for Manager of the Season, Brendan Rodgers.
YOUNG LIONS!
With Raheem Sterling and Jordan Henderson impressing at Anfield once more, their chances of making England's 2014 World Cup squad are given glowing appraisal. Matt feels that leaving the Liverpool duo at home would be a waste, while Adam believes that England should try to replicate Liverpool's 'front-six' model.
ROONEY DEAL!
Next up on the agenda is Wayne Rooney's new £300,000-a-week deal at Manchester United, with Matt disgusted at the money being thrown at the potential future captain. Matt and Adam agree that United, in footballing terms, have been fought into a corner and forced to table the contract, while Adam sees it as a necessary move, but also a sign that the Red Devils are panicking. Ben wonders what the future could hold for Rooney in terms of his playing style, while the curse of a looming Europa League campaign is discussed.
RELEGATION SCRAP!
Adam hails the togetherness of the Norwich squad in the wake of their crucial win over Tottenham, but still thinks Chris Hughton's men are in danger. There's agreement over the fate of Cardiff, while Matt believes that Fulham are safe and West Brom are down. Ben questions whether Aston Villa are in danger, and Adam wonders whether Sunderland could suffer from their cup runs.
EURO 2016 DRAW!
The expert panel can only see England progressing from their Euro 2016 qualifying group, while Ben asks whether the group gives Roy Hodgson a chance to blood youngsters and test new systems.
HOME NATIONS CHANCES!
Elsewhere, the Republic of Ireland's chances of qualification are given a unanimous damning verdict, Scotland are backed as dark horses to qualify, and the trio believe that Wales' draw gives Gareth Bale his best chance to shine on the world stage in international stakes.
If you want to get a mention on the next Football Podcast, send a tweet to @TEAMtalk with the hashtag #ilovethepodcast - and you may be one of the lucky ones selected.