Fantastically flawed
With the Premier League title race set to go right down to the wire Sam Drury looks at the reasons for Liverpool to be optimistic of their chances despite a leaky defence...
Last Updated: 01/03/14 2:43pm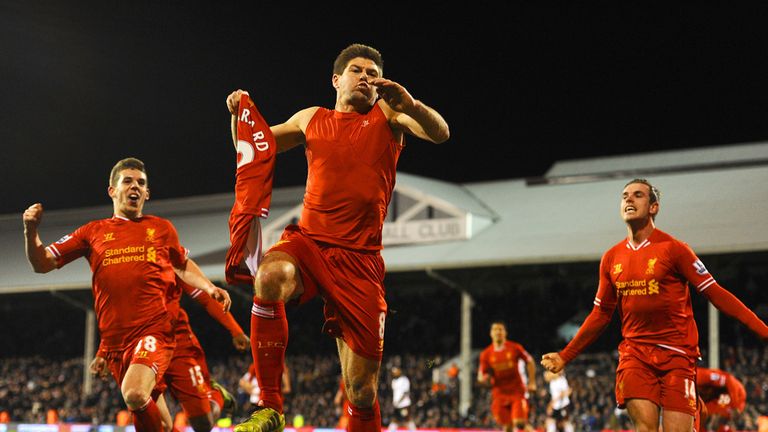 However, strangely, despite having both ground out results as well as demolish sides - including the then table-toppers no less - in recent weeks, there have been far more people queuing up to explain why Liverpool can't win the league than those championing Brendan Rodgers' side to end the Merseysiders' 24 year wait for a title win.
The reason is a simple one. Liverpool as a team have one glaring obvious flaw. Their defence. It has reached the stage now where few even attempt to make a case for them anymore. One only has to watch the Reds last match with Swansea to see why.
Martin Skrtel and Daniel Agger are experienced Premier League centre-backs but put a powerful centre-forward in front of them and you'd have trouble even convincing them of that. Wilfried Bony caused the pair problems time and again last Sunday, winning and then converting a penalty having already seen his header deflect off Skrtel for the Swans' second goal.
Liverpool's backline looked all at sea and while it was certainly the most jittery display they have put in this season it was no one-off. Since the turn of the year alone, matches against Stoke, Aston Villa and Fulham have left Kopites struggling to look as their defence contrived to make world beaters out of relegation candidates.
It is a worry for Liverpool and Rodgers but what seems to get forgotten in amongst all this is that they picked up ten points from those four games, winning three and drawing against Villa.
What is also overlooked is that there is not a single team in the division this season without a significant flaw. Even the title contenders, amongst whom Liverpool have to be considered, are far from perfect.
The solution for them all is surely to play to their strengths. The side who does so best is likely to end up as champions and for all that Rodgers' team's weakness is clear, their biggest strength is arguably even more apparent.
Going forward there is not a side in the country to match Liverpool, at least not at present with Manchester City unable to call on the services of Sergio Aguero. The Reds are the league's top scorers largely thanks to Luis Suarez and Daniel Sturridge.
The duo lead the race for the golden boot with both averaging more than a goal per 90 minutes, incredible when you think that Suarez has actually failed to find the net in his last four league games.
The form of Sturridge, who has scored his previous eight Premier League fixtures, has helped Liverpool during the Uruguayan's mini-drought but with the likes of Raheem Sterling, Philippe Coutinho and Jordan Henderson all helping to pitch in over the past month, the England man hasn't had to shoulder the burden in the same way as he did early in the season.
Liverpool simply seem to back themselves to outscore sides and having put four and five past the usually sound defences of Everton and Arsenal, respectively, since the turn of the year, it is easy to see why. The front four of Suarez, Sturridge, Sterling and Coutinho were irresistible in both matches.
Of course, they won't always be able to sweep teams aside as they did on those occasions but the Anfield side have shown they are capable of grinding out results in their past two games, albeit in an unconventional manner on each occasion.
Although winning by the odd goal is often mentioned as crucial for a side to finish top of the pile, the fifth or the seventh goal are unlikely to be the odd goal that is referred to. Ultimately though it equates to the same thing - three points - and, when they are on home soil, that is invariably what Liverpool get.
A record of 12 wins, a draw and just a solitary loss in fourteen home league games is no mean feat, and considering that just two seasons ago Liverpool managed only six victories at Anfield all season, the turnaround is arguably even more impressive.
Certainly their home form is going to be vital if they are to overhaul the three sides currently above them in the table.
Two of them, Manchester City and Chelsea, must travel to L4 before the end of the campaign in fixtures that could go a long way to deciding where the Premier League trophy ends up. The Reds pushed the top two close over the Christmas period, City in particular, but ended up on the wrong end of a 2-1 scoreline in both games.
Home advantage alone will not be enough to win but, as Arsenal know only too well, if Liverpool are on song they are capable of beating anyone at Anfield and beating them well at that.
They also have the advantage, a significant one if Jose Mourinho is to be believed, of having no other competitions to distract them. 11 league fixtures are all that stand between Liverpool and the end of the season.
As such they are able to focus solely on doing everything they can to try and land a 19th league crown and, if they don't, a Champions League place wouldn't be a bad consolation prize after four years able only to watch enviously as Europe's top teams crossed swords.
With a squad that lacks the depth of any of their title rivals; it is perhaps for the best that Liverpool have just one competition to occupy themselves with. They have been left short of options at times this season as it is, due to injuries to key players such as Sturridge, Steven Gerrard and Mamadou Sakho.
Indeed, even now a couple of injuries could see Liverpool looking worriedly over their shoulders rather than determinedly forward.
As it stands though, Liverpool can win the league.
They boast the league's best attack, at least statistically, and in eight of the past ten seasons the league's highest scorers have finished as champions.
With just four points to make up and Manchester City and Chelsea still to come to an Anfield that is well on the way to reclaiming it's 'fortress' status, that gap is far from impossible to overcome.
The deficiencies of other teams throughout the league though is arguably the biggest reason why Liverpool fans can be forgiven for starting to dream a little. Their side is deeply flawed but so are each and every one of their rivals - a quick glance at their recent results in Europe shows you that - and in this most unpredictable of seasons who is to say Liverpool can't win the league?
It would be foolish to say that Liverpool will win it. But with 11 games to go, just four points off top spot - Liverpool absolutely can win the league.