No engineer fix
The return of Sergio Aguero and Alvaro Negredo's partnership should have provided Manchester City with a huge boost on Wednesday. Instead, their title hopes are left in tatters after a 2-2 draw with Sunderland that leaves them six points behind Liverpool
Last Updated: 17/04/14 9:07am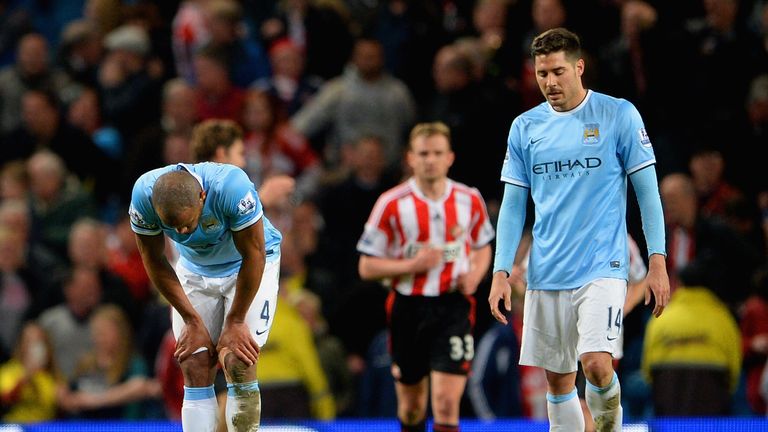 LLLLLDL. That was Sunderland's form coming into their game in hand against Manchester City. A game in hand that was supposed to count a whole lot more in the title race than in the Black Cats' near-impossible bid to avoid relegation. At kick-off Sunderland looked doomed; 90 minutes later they had taken City down with them.
A 2-2 draw does neither of these teams any favours in their respective challenges in the run-in, but at least it was some reward for Sunderland's long-suffering supporters - and perhaps a sign that Gus Poyet is the right man to try and lead the club back into the Premier League next season.
For City, the result is nothing short of embarrassing. It looks like their title challenge has reached a premature end, with Pellegrini's side now six points off the pace with five matches remaining. After Wednesday's performance, even their final game in hand at home to Aston Villa no longer looks like a banker.
At the start of the season I predicted City would win the title because Manuel Pellegrini, with his impressive record in La Liga and nickname 'The Engineer', seemed like the sort of manager who can fix things when they go wrong. But that's exactly where the Chilean has failed. There has been no answer to Alvaro Negredo's severe loss of form; there was no masterminding a victory over Barcelona in the Champions League; while Chelsea, and their 'unattractive' style of play, helped themselves to six points over their rivals and an advantage in the title race. "I'm not saying it's not important to defend very well," said Pellegrini last week, but perhaps he forgot to emphasise that point to his players ahead of two crucial matches.
This should have been an encouraging night for Pellegrini and everything was running smoothly in the first half. Sunderland put on a convincing mime of a team capable of survival, while Fernandinho performed 'man in a (penalty) box', ghosting past a static defence in the second minute to fire home the opening goal. It followed a delightful link-up between Negredo and Sergio Aguero, who were starting a Premier League match together for the first time since the 6-3 thrashing of Arsenal on December 14.
WWWWLWWDW. That was City's form with Aguero and Negredo in the first XI before Wednesday - the duo responsible for 14 of the team's 33 goals over those nine matches. After playing a pivotal role in the build-up to Fernandinho's strike, it looked as though the pair would then help themselves to a couple of goals - Negredo hoping to find the net for the first time in 12 games. Meanwhile, Everton were showing they are beatable ahead of City's trip to Goodison on May 3, trailing Crystal Palace at home. Things were looking rosy for Pellegrini.
But then City began to labour as Sunderland's mime became reality. Two headers from John O'Shea caused a scare, with Vincent Kompany appearing as shaky as he did at Anfield on Sunday. City's midfield axis was nowhere near as strong without the power, drive, and goals of Yaya Toure and, as the visitors grew in confidence, so the hosts did in complacency. And then Conor Wickham struck - twice - volleying in a well-worked equaliser before beating Joe Hart at his near post.
That Wickham tripled his Premier League goal tally in a single evening - and Emanuele Giaccherini his assists total for the season - underlines the ease with which City should have managed this task. They faced a team who were completely broken, bereft of invention and seemingly devoid of spirit. And yet somehow they contrived to throw away two points and their chances of sealing a second title in three years.
The frustration for Pellegrini and his players is that it should not have ended this way. There is no shame in losing to Everton, while dropping points at Palace on April 27 could perhaps also be excused. But surrendering their challenge at home to the club rooted to the bottom of the table demands an inquest, as does a run of form that has seen City pick up just seven wins in their last 15 matches in all competitions.
This has undoubtedly been a campaign of much improvement at the Etihad but, as Wednesday night proved, there are still ghosts in the machine from the days of 'typical City' messing it up in spectacular fashion. For a man charged with winning five trophies in five years - and not all the League Cup - that pattern cannot be allowed to continue. Barring a dramatic slip from Liverpool and Chelsea, City are now out of the title race, and Pellegrini is left to work out exactly where his team lost their momentum.