Comment: Another win for Tim Sherwood but Tottenham need a manager of substance next season
Goals from Paulinho, Harry Kane and Younes Kaboul earned Tottenham the points in a 3-1 win over Fulham on Saturday. It's been an eventful campaign for Spurs with Tim Sherwood replacing Andre Villas-Boas, but Adam Bate argues that the drama must stop with a sensible summer appointment...
Last Updated: 19/04/14 6:48pm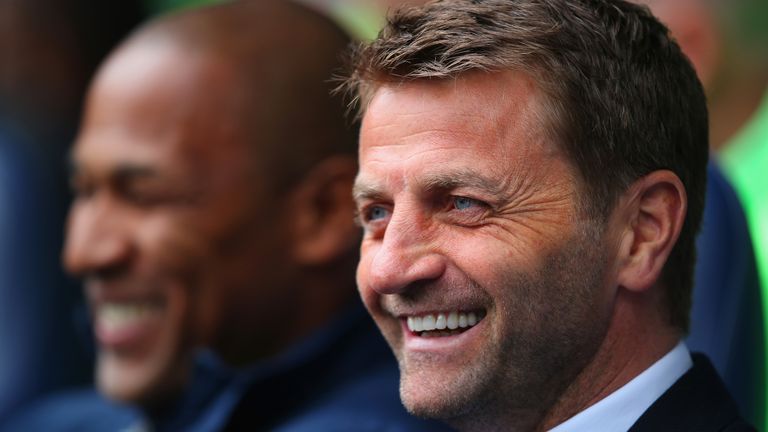 Tottenham weren't at their best on Saturday, but it rarely looked likely to be a problem. Christian Eriksen's wicked dead-ball delivery did for Fulham as Spurs emerged as 3-1 winners to make it seven points from nine in April. They've scored 11 goals in the process too.
Ostensibly, it should be an enjoyable time at White Hart Lane. Instead, it feels like a wasted opportunity. Exiting manager Tim Sherwood exudes a demob happy demeanour that seems to sum up the mood – trivial times that have provided more column inches than clarity.
Even what should have been a routine home win occurred against the curious backdrop of off-field shenanigans. The media had some fun with a tweet from midfielder Sandro, indicating that he was perfectly healthy and had simply been overlooked for the 18-man squad.
It was a strange decision given Sandro's obvious qualities and Sherwood ensured the debate would continue by offering a typically forthright response after the game. "What he's stating is correct, he's not selected at the moment. I don't think he's good enough to be in the side at the minute, when he shows me he's up to the level of the other players he'll be back in the squad."
While that might be interpreted by many as a baffling assessment of the Brazil international's abilities, such is the regularity of the coach's outbursts - even in his brief time at the helm - Sherwood is already losing the power to shock. Some call it refreshing, with the man himself once again quick to reference his own honesty at the weekend. One suspects others – the Tottenham press officer included – might have a rather different view.
Revealing
Perhaps the most revealing comments had come in the build-up to the Fulham game. "I couldn't tell you what my best team is and I don't know whether that's good or bad," said Sherwood, quoted in The Guardian. "I have assessed the players more than anyone and I could not tell you the best 11 players at Tottenham. They are all so similar, much of a muchness regarding the same quality."
I have assessed the players more than anyone and I could not tell you the best 11 players at Tottenham.
Tim Sherwood
It's a frank but alarming admission. Sherwood has been in charge of Tottenham's first team for  four months and 25 matches. That he feels no nearer to ascertaining the optimum blend only adds to the feeling that Spurs have been rudderless for much of this season. It resembles a control experiment with Sherwood cast in the role of placebo manager.
It's not that he doesn't have a point. The presence of Ezekiel Fryers and Kyle Naughton among the back-four while international midfielders cannot make the bench, hints at an imbalanced squad. Moreover, the sight of the erstwhile unheralded Harry Kane outscoring Roberto Soldado is surely an uncomfortable one for those who advocated the £28million signing of the Spanish striker.
Indeed, the fact that Sherwood feels so disassociated from that purchase is indicative of the problems that appear to pervade the club. Culpability shifts from predecessor Andre Villas-Boas to sporting director Franco Baldini; from chairman Daniel Levy to the players themselves.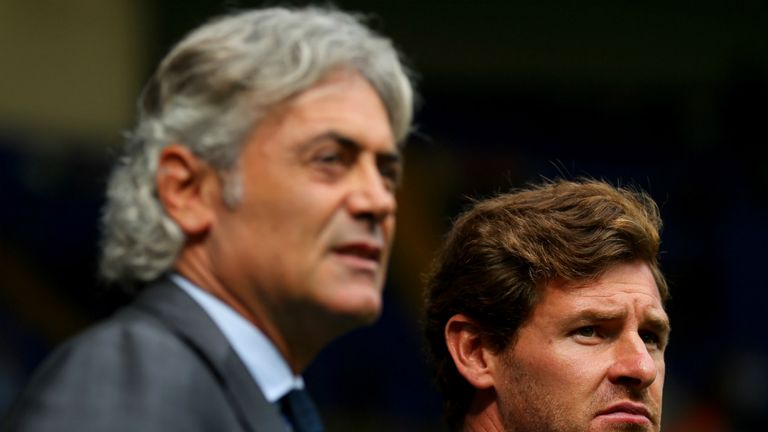 Even so, it is not sufficient to shrug and suggest the quality is not there. Plenty of sage judges were queuing up to applaud these acquisitions in the summer. Eriksen has shown his class with Vlad Chiriches offering glimpses of his talent too, and it is surely too soon to give up on the vast potential of Erik Lamela.
With so much upheaval and such obvious scope for improvement, it makes for something of a remarkable campaign that Spurs can get to 72 points should they take the maximum from the three winnable games that remain. That return would equal their best ever Premier League tally – earned last time out under Villas-Boas.
For all the criticism and disappointments, that alone offers hope and encouragement that there is something there to work with that a Louis van Gaal or a Luciano Spalletti would be more than capable of solving. Even just a handful of points added to the total could have been enough to secure Champions League football at White Hart Lane next term.
Of course, the fear is that Manchester United will come back strong, Arsenal can invest and Liverpool are set to sustain their revival with the boost of Champions League funds. These challenges only add to the sense of urgency, with the true cost of this wasted season not yet clear. They've tried the control experiment. Now it's time for Tottenham to appoint a manager of substance.