Sky Sports Vault: Phil Thompson says Liverpool players must deal with 'massive expectations'
Premier League nearly-men Liverpool host Southampton on Super Sunday this weekend and Sky Sports' Phil Thompson looks back at the same fixture in 2002, when a host of new signings and big expectations mirror the state of play for Brendan Rodgers' current team
Last Updated: 14/08/14 12:03pm
Phil Thompson clearly remembers the last time a Liverpool side that narrowly missed out on the Premier League title opened the subsequent season at Anfield against Southampton.
In 2002, Thompson was assistant to Gerard Houllier as the Reds reassembled a squad that had gone so close to glory in the previous campaign with a plethora of exciting new recruits. The similarities are stark to Brendan Rodgers' situation today.
The loss of Luis Suarez and the perceived overachievement of last season, when compared with hopes at the start of the campaign, has burdened Rodgers with the expectation to go a step further and Thompson can recall the difficulties he and Houllier faced 12 years ago.
"Because we'd done so well the year before, as runners-up, the expectation level rose and we didn't meet it," Thompson told Sky Sports.
"Instead of kicking on and winning the title, we stagnated.
"Brendan's side are the same because the expectations are massive - and the players must realise that."
Villain
Rodgers welcomes Southampton this weekend with ex-Saints Rickie Lambert and Dejan Lovren plus Javier Manquillo, Emre Can and Lazar Markovic to bolster his ranks (and Adam Lallana to come in too, when fit). He will hope they have a similar Anfield debut to a certain 'pantomime' bad-guy that Thompson and Houllier recruited.
"El-Hadji Diouf scored two," continues Thompson about the debutant on Saturday 24 August, 2002.
"Diouf was a £10m signing, which was expensive for us, and he hit the ground running but it's a shame for him and for us that it didn't last."
Two goals from the then 21-year-old were complimented by a late Danny Murphy penalty that sealed a 3-0 win for a team featuring a young Steven Gerrard alongside more experienced players such as Dietmar Hamann and Sami Hyypia. But the star of that afternoon was undoubtedly Diouf.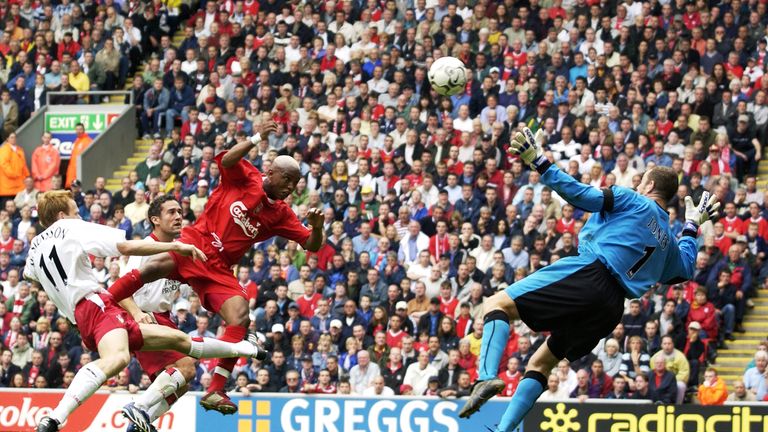 The Senegal forward, who had starred at that summer's World Cup in Japan and Korea, was the marquee signing from Lens and his two-goal haul against Saints offered little clue as to the struggles he would later face.
The controversial African had been announced as a Liverpool player the day after Senegal shocked France at the World Cup but despite a dream home debut, he would fail to score another league goal until March 2003.
A year later, he would remarkably make Pele's list of the 100 greatest living players, by which time his initial impact at Liverpool had faded.
Diouf was effectively bought as a replacement for Nicolas Anelka, whose loan from Paris Saint-Germain in the latter half of the 2001/2 campaign was never made permanent. He instead signed for Manchester City and scored 15 league goals in his first season, representing another Liverpool error in that summer's transfer market.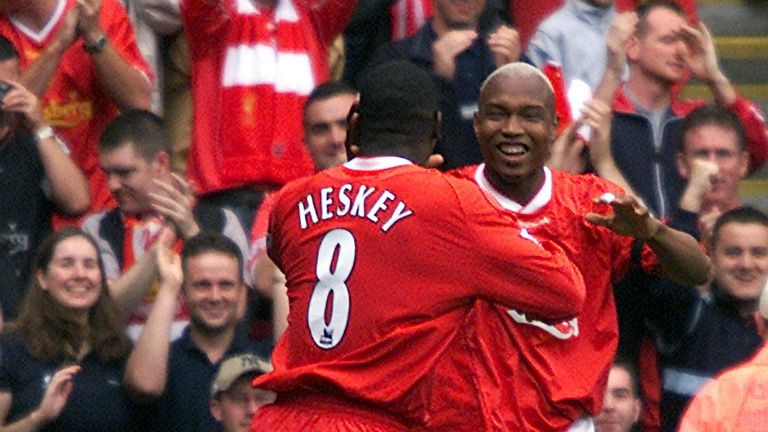 Seven years later, Houllier would confess to the Daily Mirror that "it was a mistake on my part".
Diouf was not alone in underachieving in the 2002/03 season – a lesson Rodgers will be wary of this campaign.
"The players we spent nearly £20m on – Diouf, Salif Diao and Bruno Cheyrou – didn't work out," admitted Thompson.
"They were the three top signings and they failed, so it put us under pressure. With them being French speakers, it was even more difficult."
Language barrier
Houllier's mistakes also resemble Rafa Benitez's transfer policy in summer 2009 – another season following a runners-up medal that Rodgers must learn from.
The French revolution of Houllier was replicated by Benitez's Spanish invasion, but Rodgers has so far stuck with a core of Premier League players in his attempt to jump that final hurdle.
Where Houllier recruited Diouf, Diao and Cheyrou, Benitez replaced the influential Xabi Alonso with flop Alberto Aquilani. This year, Rodgers hopes for better fortune in replacing Luis Suarez.
Both teams of the past were accused of having foreign and home-grown splits in the camp, and Thompson remembers how the club attempted to combat that issue.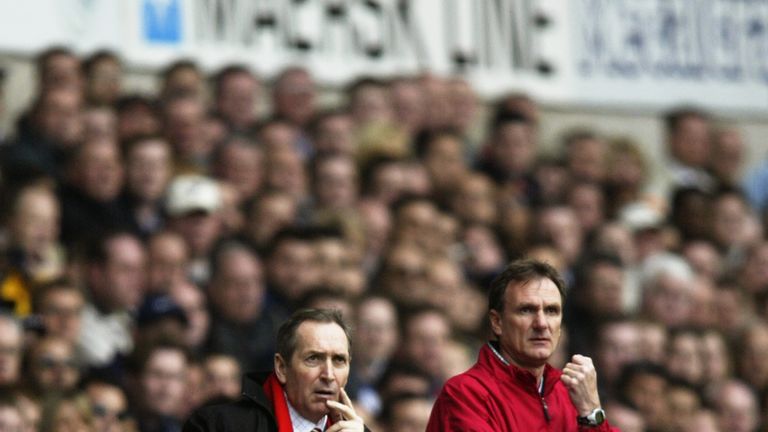 "Gerard Houllier and myself tried to make sure everyone mixed in the restaurant area and didn't sit in little cliques," he said.
"We made sure they mixed and they all had to speak English. We made a big thing about that, we'd have meetings with them about it.
"I think people will always say our team had French-English divisions, and then when Rafa Benitez came in, he discarded the French and brought in Spaniards and it was the same thing.
"It all depends on how the team is doing."
Learning
Houllier's 2002/03 team started well before a downward spiral resulted in 16 points fewer than the last season and a fifth-place finish. Similarly, Benitez's team in 2009/10 accrued 23 points fewer than their previous campaign, en route to a seventh-place finish.
Saturday 24 August, 2002
Leeds win 3-1 at West Brom and top the table on goal difference from Liverpool after two games played
A minute's silence is observed at sports events up and down the country in memory of murdered schoolgirls Holly Wells and Jessica Chapman
'Round Round' by Sugababes completes its only week atop the UK singles chart
Men In Black II is the number-one movie at the UK box office
While both teams had a dynamite striker (Michael Owen and Fernando Torres scored 19 and 18 goals respectively), it is a drop-off that Rodgers' current team must avoid.
Despite a poor defensive record last season, Rodgers must also learn from Houllier's decision to resort to more negative, counter-attacking tactics which focused on utilising the pace of Owen on the break.
Thompson doesn't believe this will be an issue for Liverpool's current boss.
"I think this Liverpool side has a different way of playing," he added. "Brendan wants them to play keep-ball with progression and quickness.
"They move the ball between the lines, especially with Gerrard in the side.
"We weren't more direct in 2002, but I wouldn't say we had the quality of this team at the moment.
"We were still trying to go places but the current team won't have their style changed just because Luis Suarez has gone. You'll still see good attacking with great pace."
The 2002 debut of Diouf against Southampton promised so much for a Liverpool team suffering from the weight of their own high standards. This weekend, when the same fixture is repeated, Liverpool would doubtless sacrifice a similarly explosive start for a more sustained and successful year.
Watch Liverpool take on Southampton in the Premier League on Sunday, with coverage underway from 12.30pm on Sky Sports 1 HD.