Premier League: Raheem Sterling looks willing and able to step up and fill the void left by Luis Suarez at Liverpool
Liverpool edged past Southampton with a 2-1 win as the Reds kicked off the post Luis Suarez era at Anfield with a win. Adam Bate looks at the performance of Raheem Sterling as the young England international delivered the sort of effective performance his manager had been demanding...
Last Updated: 18/08/14 9:11am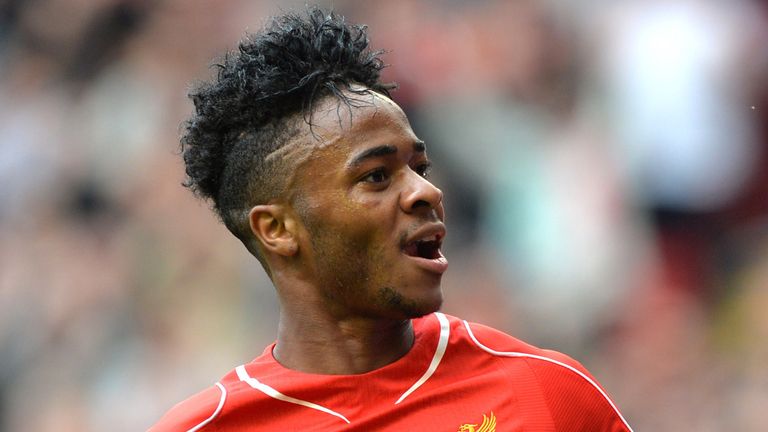 And so, life without Luis Suarez begins in earnest at Anfield. Signings have been made but the early evidence of Liverpool's opening game of the season is that the responsibility of making light of his exit will fall squarely on the coiffured head and shoulders of Raheem Sterling… And he'll cope.
Brendan Rodgers knows that when it comes to replacing the irreplaceable there are no easy solutions. Adam Lallana will no doubt slot in nicely, while Rickie Lambert offers a different threat. Lazar Markovic has considerable potential but his progress must be managed delicately.
In the meantime, Rodgers must do what he can. Against Southampton on Sunday, he opted for caution in terms of personnel if not style – effectively introducing Lucas Leiva in place of Suarez in a side reshaped from the one that so lit up last season's Premier League.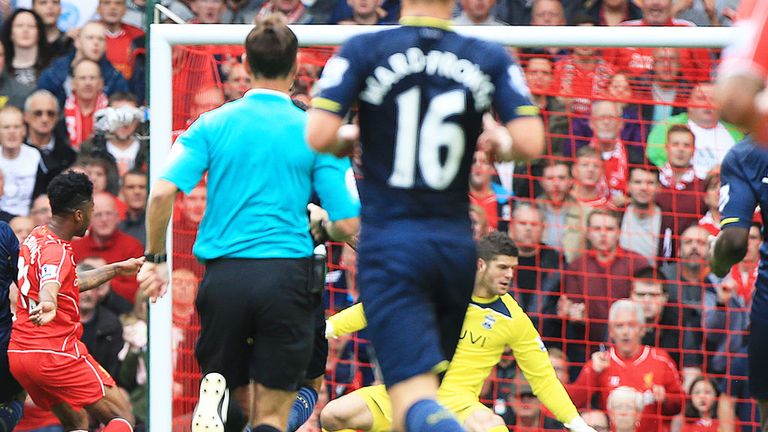 It's a formation that undoubtedly places increased responsibility on Sterling. The loss of Suarez can be measured in terms of the 43 goals and assists the Uruguayan was involved in last season in the Premier League alone. The shortfall must be made up somewhere.
Rodgers has clearly identified Sterling as the key to that. "Something we said to Raheem when he first broke into the team, and something we've reiterated, is that you have to have an identity as a player," said the Liverpool boss in midweek. "The identity he has is to score goals and create goals.
"That's what the job is. He scored 10 goals last year and this kid is only going to get better. When you're so young, it's important to understand exactly what your role is. Not just look good, you have to be efficient and effective."
There were promising signs in pre-season. The speed with which he latched onto a Lucas pass and fired beyond Joe Hart to score a late equaliser against Manchester City in New York was precisely the sort of impact play that Rodgers wants to see far more of. It didn't take long against Saints.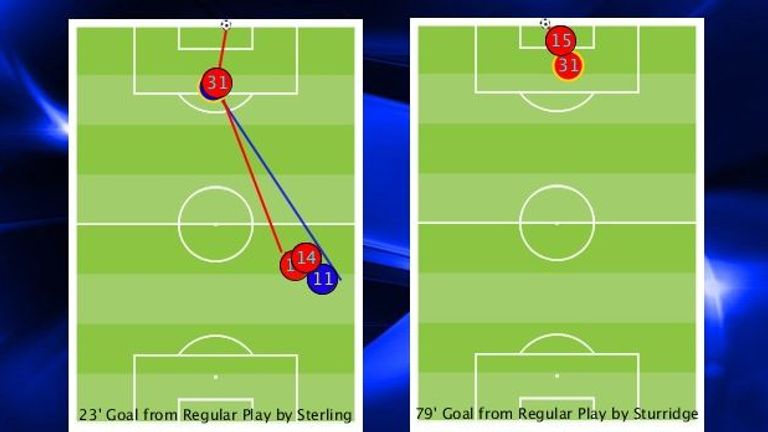 Sterling delivered a goal and an assist as Liverpool laboured their way to three points on the opening weekend. For all his brilliance last season, he was only directly involved in 14 Premier League goals for the Reds last term and didn't get his first goal or assist until December.
This was rather different. For the first goal, his out-to-in run and calm finish ensured that Jordan Henderson's marvellous efforts to set up the chance were not in vain. For Liverpool's winner, a brave header found its way to Daniel Sturridge just yards out.
He'll come up with better assists before long but Sterling has to be in the box to get them and that's exactly where he was – in the danger area making things happen. He had more shots on target that any player, more completed dribbles and nobody created more chances.
Speed
With Sterling, it happens at speed too. Premier League tracking data shows that he made 47 separate high-intensity sprints and only the impressive Nathaniel Clyne could better the 412 metres he covered at these speeds of 25.2km/h and above. It can be impossible to deal with.
He is still just 19 years of age and it's worth remembering that he was the youngest player to feature on either team at Anfield on Sunday in a game that included fresh-faced figures such as James Ward-Prowse and Lloyd Isgrove. But Sterling is ready to be the main man right now.
Those 43 goals still need replacing. Well, this was two for starters and three points Liverpool scarcely deserved. Efficient and effective, Rodgers demanded. As his young star clutched the man of the match champagne, it was hard to argue. Raheem Sterling had been exactly that.