Willian's Team Mates: Chelsea winger dishes dirt on Stamford Bridge colleagues
Brazilian names future manager and the Blues' brainbox...
Last Updated: 01/09/14 11:52am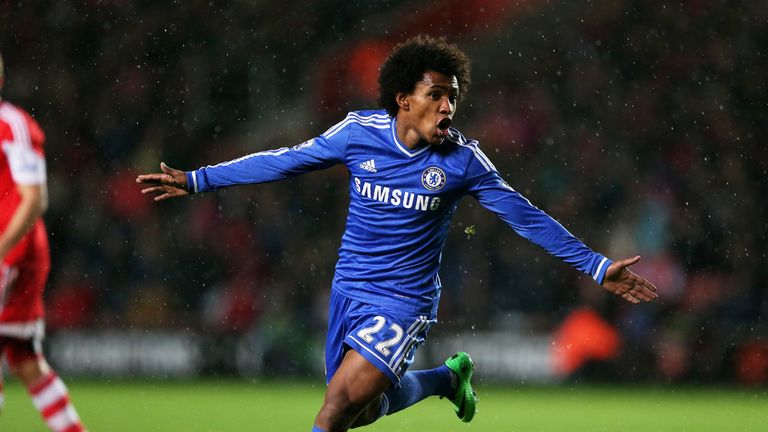 We know that Chelsea have a charismatic manager, spent big money this summer in order to boost their title chances, and started the season with wins over Burnley and Leicester.
But we asked Blues winger Willian to give us the lowdown on what goes on behind closed doors and tell us all about his Stamford Bridge team mates.
Who works hardest on the Londoners' Cobham training pitch? Who's got the worst clobber? And who's the club brainbox? Read on to find out…
Willian's Team Mates:
Best Trainer: Because he trains pike it's a real game, Cesar Azpilicueta
Quickest: There are quite a few fast players in the team. Eden Hazard, Mohamed Salah and Andre Schurrle are the quickest, but I am fast, too.
Hardman: There is not just one, there are quite a few: Branislav Ivanovic, Gary Cahill and Ramires
Worst Dress Sense: Hazard. He doesn't really care what he's wearing. For example, he will wear red trainers with a yellow shirt.
Future Manager: John Terry. He's very experienced and he's the captain of the team. He is the one who talks to us the most.
Most Intelligent: Petr Cech. He speaks many languages: Spanish, French, English and Russian.
And… Who's The Longest in the Shower?: Me! It takes a long time to wash my hair.
Willian was appearing at a photoshoot to celebrate the launch of WATCH_DOGS, the highly anticipated and first true next-gen video game from Ubisoft, out to own now on PlayStation®4, Xbox One, Xbox 360®, PlayStation®3, and Windows PC.