Jose Mourinho criticised Manchester United players for celebrating Juan Mata goal
By Jack Wilkinson
Last Updated: 11/01/17 11:02am
Jose Mourinho criticised his players for over-celebrating Juan Mata's opener in Manchester United's EFL Cup semi-final first-leg victory over Hull City.
It took United 56 minutes to break down a resolute Hull side at Old Trafford, Mata stooping at the far post to turn Henrikh Mkhitaryan's header beyond Eldin Jakupovic.
The Spaniard wheeled away in front of the Stretford End as the hosts partook in lengthy celebrations, actions Mourinho disapproved of after the game.
"We needed to play," he told Sky Sports. "In cup ties every goal can be crucial, so why celebrate when you have half an hour to play?
"I don't think we should, there is no reason to celebrate the first goal."
The comments came after Mourinho called on Manchester United players and supporters to raise their game ahead of Liverpool's visit to Old Trafford for Merseyside v Manchester on Super Sunday.
Despite taking a giant stride towards the EFL Cup final with a 2-0 victory over Hull, there was a subdued atmosphere at Old Trafford, particularly in the first period, until second-half strikes from Mata and Marouane Fellaini lifted the mood.
And with United set to host Liverpool next time out, Mourinho was keen to rally himself, his players and the supporters.
Asked if he was disappointed with United's first-half performance, Mourinho added: "I was a bit, yes. It was not our best first half.
"Of course, Hull were very well organised like I was expecting and it was not easy for us. But I think we were a bit sloppy.
"We complicated things, took one too many touches and delayed decisions, giving them time to regroup.
"In the first half the players had to do better, I had to do better and the fans also could do better.
"The second half we all improved a little bit, just a little bit. Because this game is over I think now about Sunday, where myself and the players need to do better and the stadium does too."
There was a warmer reception from Mourinho to Fellaini's goal, with goalscorer and manager embracing in the dugout.
"I was expecting a difficult match, I was not expecting to win by four or five goals," Mourinho added.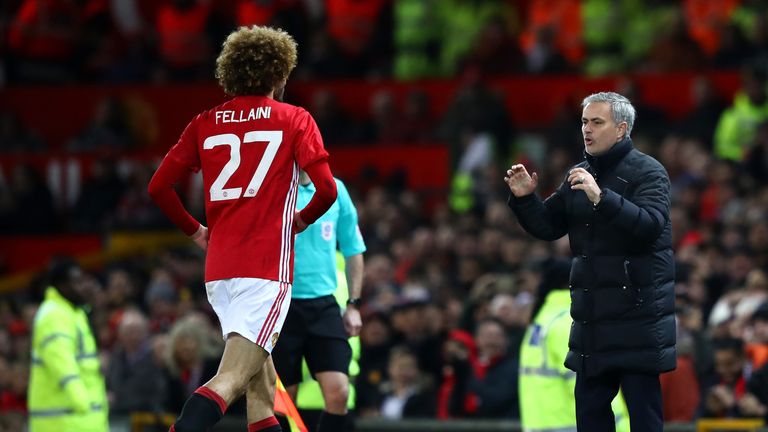 "For me, 1-0 is always a good result but 2-0 is obviously better. It doesn't hand us the semi-final, we are not at Wembley but the second goal may prove to be an important goal.
"Fellaini wanted to show that he knows how much I have supported him through a couple of difficult moments.
"It (the hug) was probably because I told him he was going to score the second goal. It was nice for him to score in front of the fans, and the second goal can be an important goal."