Being Manchester United: Paul Pogba, Luke Shaw, Victor Lindelof and more speak to Super Sunday
By Patrick Davison
Last Updated: 13/08/17 3:19pm
Patrick Davison meets Michael Carrick, Paul Pogba, Luke Shaw, Victor Lindelof and more at Manchester United's pre-season filming - and discovers a squad that feels happy and familiar once again...
Jose Mourinho arrived at Old Trafford to find, in his words, "a sad club". A club "not ready to be Manchester United" anymore. A team a million miles from the dominant force they'd been before entering the post Sir Alex Ferguson wilderness.
Maybe they're still a way off. But it doesn't feel like a sad club anymore and they do, at last, look ready to be Manchester United again.
There are some big signs. Like the trophies won, huge fees paid and decisive action taken in the transfer market, as well as the return to the Champions League.
Then there are some smaller indications. Perhaps it means something, perhaps it doesn't but at United's pre-season filming this week, at an indoor pitch inside the club's training complex, plenty in the media noted a happier and more bubbly group of players, as they went from station to station, completing the annual task of poses, mocked-up celebrations and messages delivered down the barrel of the camera, than had been seen in the past.
We were there for a behind the scenes Super Sunday feature, chasing down as many interviews as possible. On the back of an excellent pre-season personally, Phil Jones was first to bring up the squad's togetherness after I reminded him of Mourinho's comments from earlier in the week - about how he's never liked a squad as much as this one.
"I'm glad he does, I'm honoured," he says smiling.
"But I know what he means. When the new lads came in we made them feel really welcome and settled straight away. There's no, 'Look at me, I'm the best player'. We've got a group who really want to work for each other, fight for the manager and for their careers."
Luke Shaw is certainly one fighting for his career, at Old Trafford at least. It's a fight he sounds absolutely determined to win.
"It's a very big season for me. Deep down I have to look at what I was doing at the start of last season," he says, adding to what's already been a pretty interesting week in terms of honesty from left-backs.
"Maybe at the time I thought I was training hard enough but what gives me confidence is that the manager believes I can do more. I'm ready now. I think I realise now even more how important it is to give everything for the manager and the club; to strive for the best, to win trophies."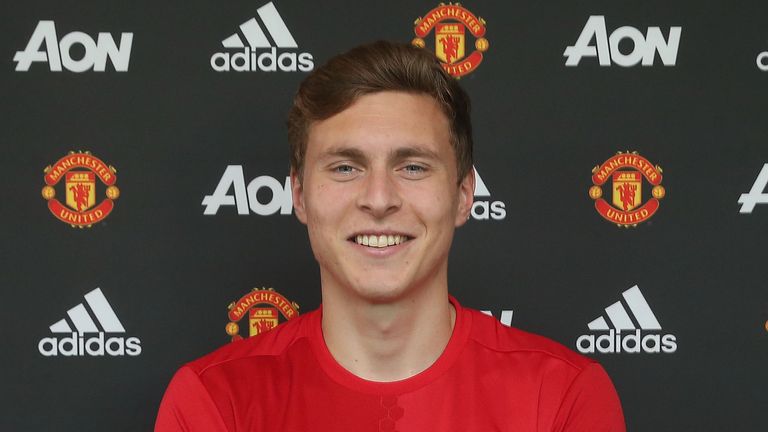 Victor Lindelof was the next one we caught up with as he wandered round the indoor pitch, looking and sounding delighted to be a Manchester United player.
"I'm very happy to be here. It's been like I imagined - a big team with a lot of fans and great players," says the summer signing from Benfica.
"I'm a defender that likes to have the ball at my feet. I like to play football on the ground, I think I can read the game quite well."
"Personally I just want to have a good season and help the team as much as I can."
For Michael Carrick, 'help the team' is now a phrase with a new meaning. The 36-year-old is about to embark on his 12th season with the club but his first as full-time captain after Wayne Rooney's summer departure.
"It feels great [to be the full-time captain]. There have been a few things to sort out that have kept me busier than normal. When people start moaning they tend to come to me to sort things out but really it doesn't change a lot.
"I've been lucky enough to play with unbelievable players, big characters and great captains, Wayne was one of them. I have tried to learn as much as I can off everyone. Over the years you gain experience and hopefully I can pass that on to some of the younger boys."
Next to pass through the conveyer belt of pre-season filming are the younger boys, Marcus Rashford and Jesse Lingard. They spent so much of the interview squabbling over a summer game of table tennis (shared by Lingard on social media) it seemed like one of the closest friendships in the United dressing room was getting a bit fractious.
But they were soon smiling - and discussing the moment that cemented their friendship.
"The City game was the start of it," says Rashford, referring to United's 1-0 win at the Etihad back in March 2016 in which he scored the game's only goal.
"There was an incident that happened and he was straight over."
"After Demichelis bullied him," says Lingard, chipping in before Rashford finishes the story.
"We've always been close but that was the thing that brought us closer."
Then as the filming was coming to an end, the other United bromance arrived. Paul Pogba dancing, singing, ball juggling and interrupting interviews in a way that makes you think it's probably pretty difficult to have a sad club with him around. Romelu Lukaku looking all the more comfortable in his United shirt for having one of his best friends alongside him.
But for all the fun and the relaxed atmosphere, there was a steel about all the players we spoke to. All of them mentioned winning trophies, all mentioned targeting the title.
Pogba summed up their ambitions as well as anybody.
"What's a good season? Winning everything! We are Manchester United and we want to get back to being the big Manchester United. We want to win more trophies and do better in the Premier League and we're obviously happy to be back in the Champions League. We're here to do great things."
I'd say that's quite clear then - they're ready to be Manchester United again.