O'Shea keen to show pedigree
John O'Shea has called on Manchester United to show their European pedigree when they face Schalke.
Last Updated: 26/04/11 6:12am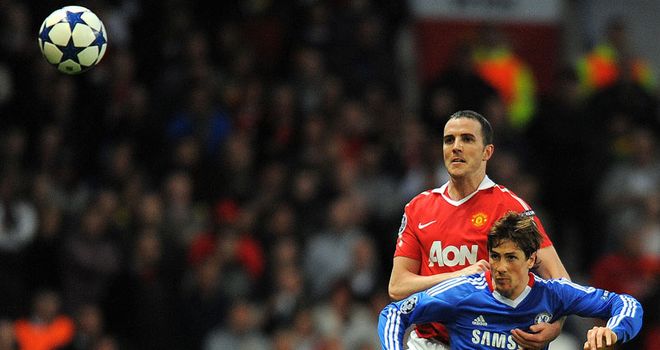 John O'Shea has called on Manchester United to show their UEFA Champions League pedigree when they tackle Schalke in the semi-finals.
The Red Devils have travelled to Germany for the first leg of their semi-final encounter hotly tipped to book a place in the Wembley final against either Real Madrid or Barcelona.
Schalke suffered a home defeat at the hands of Kaiserslautern at the weekend as United overcame Everton to home in on their 19th English title, but O'Shea is taking nothing for granted.
After failing to overcome Borussia Dortmund at the same stage in 1997 and Bayer Leverkusen two years later, the Irishman feels it is time United flexed their muscle.
"We have to make sure we show them our history, why we have got to finals, why we have won them, why we have been in this situation many times before," he said.
Impose
"We have to impose ourselves whilst understanding the threats they have, which we will have to cope with."
If United have been something of an enigma this term, battling to within seven points of a record 19th title despite rarely hitting the heights of previous seasons, Schalke's form is even more puzzling.
Firmly entrenched in mid-table after a disappointing Bundesliga campaign, Schalke have reserved all their best performances for Europe.
They are unbeaten since losing to Lyon in their opening group game and after dismissing a Valencia outfit that gave United two tough matches earlier this season, Schalke then slammed seven goals past holders Inter Milan at the quarter-final stage, with veteran Spain striker Raul finding the net in both legs.
"I wouldn't say we are pleased with the draw," said O'Shea.
Pressure
"Schalke have reached a Champions League semi-final. They have got to be a good team.
"We are favourites, which adds a bit of pressure but any side who can score so many goals against Inter Milan has to have something about them."
O'Shea also knows Schalke's supporters tend to generate a hostile atmosphere in the Veltins Arena, although after squeezing past Marseille in the last 16 after a goalless first encounter he is not convinced United's hopes hinge on them grabbing an away goal.
"We have to use our experience to quieten their crowd down," he said. "An away goal is always nice but it is not the be all and end all.
"We know if we are in sight when we come back to Old Trafford, we will have a great chance."