Van der Sar wants fitting finale
Man Utd's Edwin van der Sar wants a fitting conclusion to his career by winning the Champions League.
Last Updated: 26/04/11 10:37pm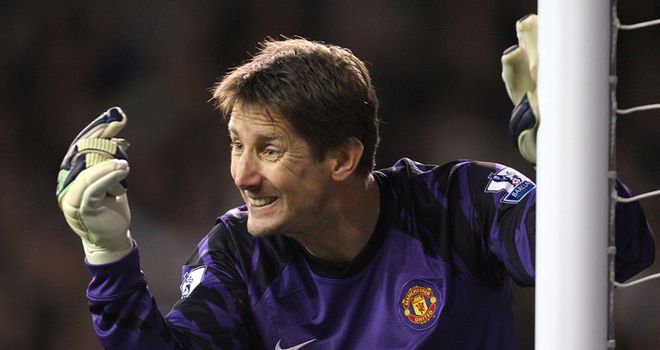 Manchester United goalkeeper Edwin van der Sar hopes to apply a fitting conclusion to his career by winning the UEFA Champions League.
The Dutchman, 40, is set to retire at the end of the season and he could hang up his gloves with a Premier League and Champions League double.
United are preparing for Tuesday's European semi-final first leg at Schalke and Van der Sar will make his 13th appearance in the final four during the fixture.
It is a quirk of the shot-stopper's career that the first six semi-final appearances came during his youthful days at Ajax, but he is now hoping for a perfect finale.
"It is always nice when you are involved in a winning team," he said. "We have been good recently, so hopefully we can carry that on.
Amazing
"I have had a reasonable career so far. Let's hope I can finish it off nicely."
Van der Sar has also expressed his admiration for another veteran, and the most obvious threat to United reaching their fifth European Cup final, Schalke striker Raul, a comparative youngster at 33.
"Raul is quite an amazing player," said Van der Sar.
"He had so many years at Real Madrid at a high level and scored so many goals for them in the league. In addition, he is top scorer in the Champions League.
"He is not someone you can lose your eyesight of.
"He is so dangerous and only needs a little chance to score a goal."