Fergie faces selection dilemma
Manchester United boss Sir Alex Ferguson admits he faces a selection dilemma this week.
By Ben Collins
Last Updated: 03/05/11 4:50pm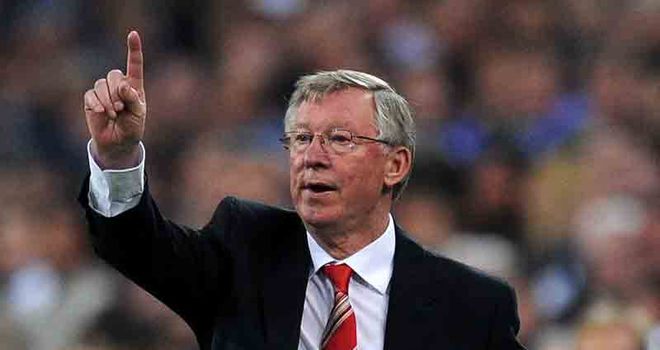 Manchester United boss Sir Alex Ferguson admits he faces a selection dilemma this week.
United host Schalke for the second leg of their Champions League semi-final on Wednesday night before staging a Premier League title showdown with Chelsea on Sunday.
United's 1-0 defeat at Arsenal last weekend means a Chelsea win would see the Blues replace Ferguson's side at the top of the table on goal difference with just two games left.
And, although United have one foot in the Champions League final having won 2-0 away at Schalke, Ferguson knows he must choose carefully for Wednesday's return leg.
"If you look at our experience of last year, the team were very tired against Chelsea in that next game after losing in Munich," he said.
"All four semi-finalists lost this weekend too and there are certain statistics that tell you the European games do take it out of you. That has to have a bearing on my team selection.
Massive games
"We have two massive games - both as important as the other. Chelsea is massive, so I have to pick the right team tomorrow to ensure I have the same kind of freshness I need for Sunday's match.
"Hopefully I will have the nucleus of a team that is still good enough to win the match."
And, given his side have a commanding advantage from the first leg, Ferguson warned against complacency at Old Trafford.
"It is always dangerous in football to assume you have cracked it; that you have found a sliver bullet or discovered some secret formula for success," said the United boss.
"We live in exciting times for Manchester United and, while I want both players and supporters to enjoy every minute of it, we must take nothing for granted.
"It is very easy to get complacent in modern life. There are many examples of it.
No formality
"But Manchester United don't regard it as a formality tomorrow and it certainly will not be."
United have recorded eight wins and three draws from their 11 European games this term, a more consistent record than they have in the Premier League, and Ferguson feels Champions League football brings the best out of his team.
"The mundane football of the Premier League is almost incessant tribalism," he added.
"You are either playing a London team or a Yorkshire team or a Liverpool team. It creates that incredible competitive edge.
"You go into Europe and it is a different type of football. It is a different way of playing. Different tactics. It possibly brings a better concentration from us."