Scholes glad of Fergie factor
Paul Scholes admits Sir Alex Ferguson's renowned mind games give Man Utd a boost during the run-in.
Last Updated: 06/05/11 4:44pm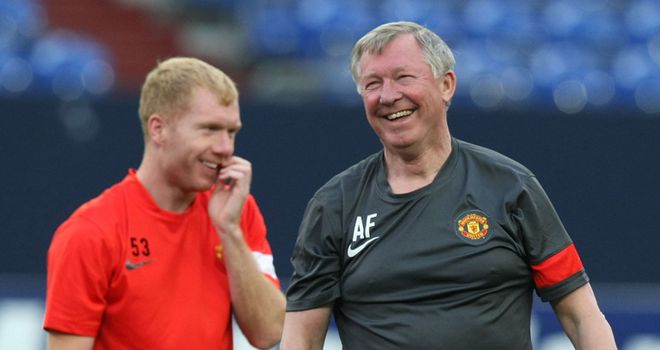 Paul Scholes admits Sir Alex Ferguson's renowned mind games give Manchester United a boost during the Premier League run-in.
Ferguson has been involved in numerous confrontations with other managers during his 25-year reign at Old Trafford, most famously in 1996 when he wound then Newcastle manager Kevin Keegan up so much he exploded in frustration during a live TV interview.
The Scot has been more understated in the build-up to United's crunch Premier League clash with Chelsea on Sunday, claiming he fears a referee's decision might go against his side in the do-or-die encounter.
Midfielder Scholes, who is hoping to secure his 10th winners' medal this season, believes Ferguson's interventions can have a positive influence.
"He has had some famous run-ins with other managers down the years," Scholes told Inside United.
"Whether there's anybody to do that with this year, I am not too sure.
Calming
"But he is great as a calming influence on us. Coming towards the end of the season, there is no better manager to have.
"He has been through this, competing for the title, for nearly 20 years now, so he knows what he wants to do and he will get that across to us."
United are currently top of the league and will pull away from nearest rivals Chelsea with a win at Old Trafford on Sunday.
Scholes says his side have added motivation to lift the trophy after missing out on an unprecedented fourth successive championship to the Blues by a single point last season.
"We were just as hungry last year but it is not nice when you see other teams celebrating," said Scholes.
"We want to make sure it's us this year."