Smalling relishing occasion
Chris Smalling is thrilled to be involved in the Champions League final in his first season at Manchester United.
Last Updated: 27/05/11 8:38am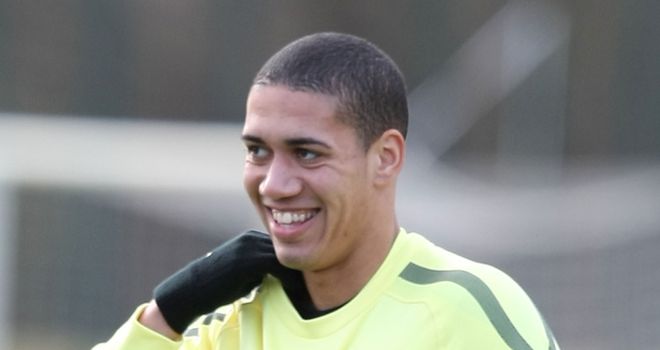 Chris Smalling is thrilled to be involved in the UEFA Champions League final in his first season at Manchester United.
The former Fulham centre-back has been used to watching European club football's showpiece event on television in previous seasons.
Now, barring a late injury to Nemanja Vidic or Rio Ferdinand, he is likely to have one of the best seats in the house - pitchside on United's bench for the clash with an all-conquering Barcelona side.
"I used to watch the Champions League at my mates' houses all the time," said Smalling, who famously was playing for non-league Maidstone United three years ago.
"It has only been one season [at United] and I am already looking towards a Champions League final.
"It is going to be a great occasion at Wembley. It will be great to see all the friends and family. It should be a big finale.
"On a personal level I did not expect it to turn out this way but it has been superb to feel part of the team.
"Even the group games, when you hear the music on a Tuesday or Wednesday - the music sets it alight.
"Everyone watches, regardless whether you support a team or not. It is great just to be able to be part of it."
European experence
Having joined Fulham in the summer of 2008, the 21-year-old made his United debut in last year's Community Shield - after signing the previous January - and has so far played in the Champions League nine times.
Having been loaned back to the Cottagers for the second half of last season, Smalling gained the unexpected bonus of playing in a side which reached the Europa League final.
He may be set to miss out on a second successive European final - he did not play in the defeat to Atletico Madrid in Germany - but believes the experience was invaluable.
"The Europa League final with Fulham last year was disappointing but it was a great build-up," he added.
"Hopefully we can go one step further as this club is used to being involved in these big occasions.
"In the bigger competitions it is all about concentration. One mistake can be highlighted for a week.
"But if you do make a mistake during a game, you also have to be able to get over it. My concentration has improved and I have enjoyed going to bigger stadiums and playing against bigger players.
"The boss [Sir Alex Ferguson] always says you need the courage to go and play. When I step out there, I try to give it my best. That is all you can do."