Scholes - Best final possible
Manchester United veteran Paul Scholes feels the best two teams in Europe have made it to the UEFA Champions League final at Wembley.
Last Updated: 27/05/11 2:55pm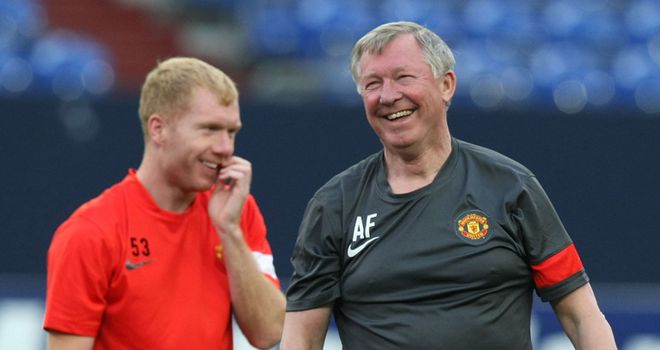 Paul Scholes feels the best two teams in Europe have made it to the UEFA Champions League final.
The Manchester United veteran agrees with the long-standing belief that Barcelona are the best club side in the world at the moment.
But Scholes insists the Red Devils are justifiably standing alongside them as the cream of the crop.
"There is no doubt the two best teams have made it to the final," said the 36-year-old.
"Barcelona are the ultimate. They are what we all look to and want to play like.
"But our football can be just as good as theirs at times. We have a lot of quality too.
"Both teams want to go forward and score goals, so I don't think anyone could ask for a bigger or a better final."
Determination
Suspended in 1999, Scholes finally collected a winners' medal in his own right nine years later in Moscow.
He was only introduced as a late substitute against Barcelona a year later and could not change the course of a final that had already turned against his team in Rome.
"There is a determination to make sure that doesn't happen again," said Scholes of a night filled with regret.
"It wasn't a nice night and the summer afterwards felt very long. This time we intend to at least give it a go."
Scholes is still to reveal his intentions for next season, having so far refused to say whether he is going to accept the option of another one-year contract.
Manager Sir Alex Ferguson believes he will. Others are not so sure.
Bench
Strangely, the statistics bear out a belief Scholes remains an integral figure, even though he will start Saturday's match on the bench.
Twenty three starts and nine substitute appearances is not a bad return for someone who was absent for nine games anyway due to a groin injury that took some time to shift.
"I felt great until the Rangers game [in December], when I did my groin," he said.
"I should only have been out for a week to 10 days. It ended up dragging on for six weeks and I found it quite difficult to get back in.
"It took me a while to get used to the fact it would take me longer to get match fit again because I was only playing every couple of weeks.
"It is just the way it is. Now I am looking forward to a good end to the season."