Pique wary of Rooney
Gerard Pique has praised striker Wayne Rooney ahead of the UEFA Champions League final at Wembley.
Last Updated: 27/05/11 8:47am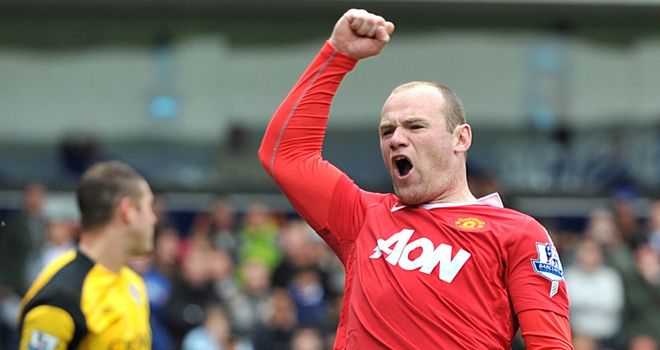 Barcelona star Gerard Pique has praised Manchester United striker Wayne Rooney ahead of the UEFA Champions League final at Wembley.
The Barca defender knows the England international well from their time together at Old Trafford and he is an awe of his raw power.
Pique felt Barcelona were boosted when Rooney played out wide left in the 2009 final, but knows he will play through the middle this time around.
The 24-year-old has urged his colleagues to remain fully concentrated throughout the encounter to ensure Rooney is not given any time on the ball.
Power
"I have never seen a player as powerful as Wayne," revealed Pique.
"You look at his game and you see the way he goes past people, the intensity of his play, the runs he makes from the first minute to the last and the shot that he has.
"He is simply world class and this time, unlike Rome [where Barca beat United in the 2009 version of this fixture], where he played on the left, he will be a striker and therefore more dangerous.
"Wayne is always a striker at heart and one of the best, as he always scores a lot of goals. We will have to be really concentrated not to give him space, not to give him time. Otherwise he will hurt us.
"We were close at United. One day I remember The boss made us both change our boots in training, as he didn't like us wearing yellow ones. We have a good relationship, but during the game there are no friends. We will fight our interest."
No regrets
Meanwhile, Pique still has vivid memories of leaving United in 2008 to return home to Barcelona after four years at Old Trafford.
The Spaniard made just 23 appearances for the Red Devils, mainly due to the impregnable partnership of Nemanja Vidic and Rio Ferdinand, and he insists he returned to Catalunya a new man.
"Sir Alex is always 'The Boss', and always will be," he continued. "He's absolutely incredible. He's won loads of titles and has made Manchester United the best team in England.
"Although I didn't play a lot, I had a good relationship with him. He was always very direct with me. With Sir Alex we talked openly, and I never had a problem.
"It was a difficult time and there were hard moments when you don't understand why you're not playing. But they had two great central defenders in Rio Ferdinand and Nemanja Vidic, so it was tough for me to get a chance.
"I went there when I was 17 and came back when I was 21. The Gerard who went was very different to the one who came back.
"I still remember the day I told him I wanted to leave. I went into his office and just told him straight away. I told him I appreciated him a lot, had had four great years in Manchester and enjoyed playing a lot, but that I wanted to leave to go home.
"Maybe he would want me to still be in Manchester and I don't know if he regrets letting me leave.
"At the time I left, it was a good decision for him, for me, for Manchester United and Barcelona. When I arrived here I was lucky to have a lot of minutes to show that I could play. Maybe I could have done that at United, but I took the decision to leave.
"Barcelona is my home and I was a fan of them since I was a child. He tried to convince me otherwise, but he understood completely and our relationship is still good."