Roo backed by Rio to shine
Rio Ferdinand expects Man Utd team-mate Wayne Rooney to rise to the occasion against Barcelona.
Last Updated: 27/05/11 9:05pm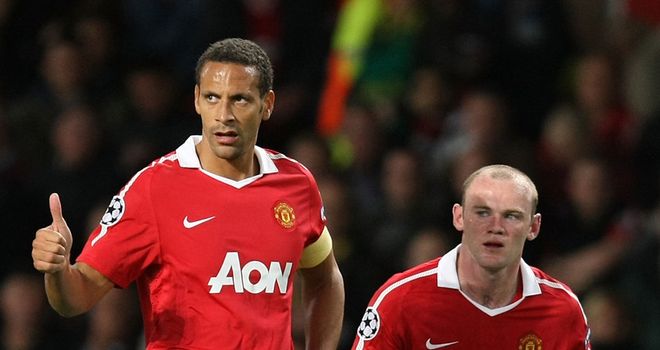 Rio Ferdinand expects Manchester United team-mate Wayne Rooney to rise to the occasion against Barcelona on Saturday.
This time last year, Rooney was being compared to Barcelona ace Lionel Messi, who he will go up against in the UEFA Champions League final at Wembley this weekend when United face the Primera Liga giants.
But instead of confirming his status as one of the best players on the planet at the World Cup, the man who scored 34 goals for United had a nightmare, failing to score a goal, and his most notable moment in South Africa was to castigate the England fans for booing their team off in Cape Town.
A prolonged period in the doldrums followed, from which Rooney has not long emerged.
But the 25-year-old striker has shown glimpses of his best form in the closing stages of the campaign, and Ferdinand expects him to shine against Barca.
"When we have needed Wayne to stand up and be counted he has always been there on most occasions," said defender Ferdinand.
"People talk about big occasions. I think of the (Manchester) City game when he scored one of the best goals you will see at Old Trafford.
"I don't need to go through the times and occasions he has done that."
Benefit
Rooney has benefited most from the emergence of Javier Hernandez, who has scored 20 goals in his debut season so far and is ahead of joint Golden Boot winner Dimitar Berbatov in the queue for a starting place.
Either as a main striker, out wide or dropping deeper, as he has done most recently, Rooney has produced moments of genius. Faced with a Barcelona side containing Messi, Xavi and Andres Iniesta, United need someone to produce a dazzling performance.
Rooney has the capability. Not that Ferdinand feels he has anything to prove.
"Wayne can show his worth anyway regardless of what happened last summer at the World Cup or what happens tomorrow at Wembley," said the former England skipper.
"We have 100 per cent trust in all our players."