Allan snub angers Houston
Dundee United manager Peter Houston has vented his fury after reported Man Utd target Scott Allan rejected a new deal at Tannadice.
Last Updated: 23/09/11 9:41am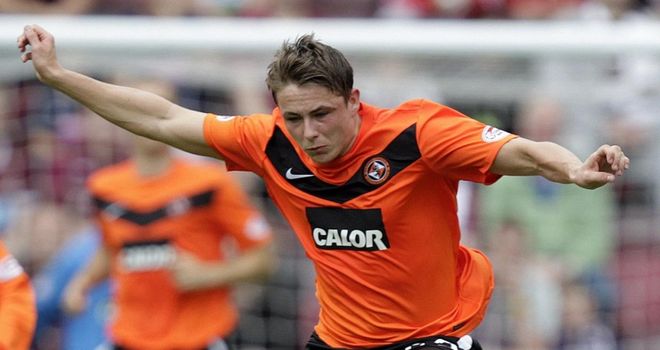 Dundee United manager Peter Houston has vented his fury after reported Manchester United target Scott Allan rejected a new deal at Tannadice.
Skysports.com reported on Thursday that the Red Devils were keeping tabs on the 19-year-old midfielder, who has made a big impact in the SPL during the early part of this season.
Dundee United had been keen to keep Allan and offered him a fresh contract they felt was extremely generous.
However, he turned down the proposal and Houston has now claimed that Allan's representatives demanded the player be made one of the club's highest earners, despite the fact that he has played just 242 minutes for the first team.
Houston has been infuriated by the situation and is particularly critical of the player's agent, John Viola.
"Scott has rejected our offer and I'm very disappointed," Houston said in the Daily Record.
"He was offered the best deal this club has ever offered to a teenager but doesn't want it.
"When it comes down to a 19-year-old demanding to be the third-highest paid player at the club after two-and-a-half games then I wouldn't pay him it even if I could afford it.
"That's what his agent asked for at first. He wanted wages in line with guys who have been playing at this level for years - I think he's being wrongly advised.
"That tells me where the priorities lie. I can't be bothered with people who are only motivated by money. We won't give Scott any more money because he has still to prove himself. He has had two good games, that's it. He might get a big club but will he play?
"For me he should be looking to play 50-100 games here and then perhaps move to a bigger club.
"But he and his advisers want to do it their way so whatever happens will be up to them."
Hard to stomach
Allan is out of contract at the end of the season and, if he runs down his deal, Dundee United believe they would be due around £450,000 compensation for their role in his development.
The Terrors have a reputation for developing players and only recently David Goodwillie left for Blackburn in a £2.8million deal, while Houston's current crop includes Johnny Russell, Stuart Armstrong and Ryan Dow.
The Tannadice boss reckons their attitude is an example to Allan, who the club have stuck by through some tough times.
Houston said: "Look at the players who have accepted deals at Scotty's age - Goodwillie, Russell, Watson, Armstrong and Dow. These guys have all become first-team players at this club.
"But Scott has decided he doesn't want to be at United. We will be due a lot of money for our role in his development.
"I find it hard to take because we have looked after Scott during his glandular fever and broken leg.
"But if he wants to wait until the end of the season then we'll take the compensation we're due. He won't be going before that.
"I find it hard to stomach from a boy who has played two and a half games. If money is his goal and he will be happy playing reserve football for a big club that disappoints me."
Agent Viola later hit back and defended his client against accusations that he is only interested in money.
He said: "Scott is not greedy, all he wants is to play.
"It's the club's prerogative to play him during contract talks."