Lindegaard thrilled for Fergie
Anders Lindegaard was delighted Manchester United could help Sir Alex Ferguson celebrate his 25th anniversary at the club with a win.
By Subhankar Mondal
Last Updated: 06/11/11 3:36pm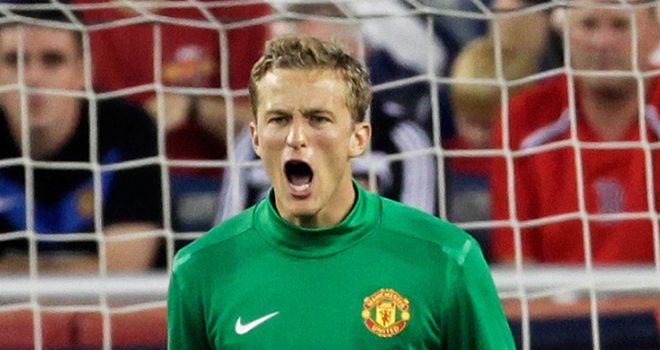 Manchester United goalkeeper Anders Lindegaard was delighted that he and his team-mates could help manager Sir Alex Ferguson celebrate his 25th anniversary at the club with a victory.
The champions won 1-0 against Sunderland at Old Trafford in the Premier League on Saturday to remain five points behind leaders Manchester City in second place after 11 matches.
Sir Alex was appointed the United manager 25 years ago on Sunday and since then he has won 12 Premier League titles, five FA Cups and two Champions League trophies among others.
The Red Devils' performance against Sunderland was not particularly impressive but Lindegaard, who started against the Black Cats, was pleased to have secured maximum points to mark the historic occasion for his legendary boss.
Biggest manager
"It says it all," enthused the 27-year-old on the renaming of the North Stand at Old Trafford as the Sir Alex Ferguson Stand.
"One of the biggest stands in the world is called Sir Alex Ferguson. I would be thrilled if I could have just one seat out there called Anders Lindegaard's seat.
"He has created this club almost from the bottom and he's the biggest manager in football history. We deserved to win and to reward the manager on his 25th anniversary with a clean sheet and a win is very good."
"Some of the wisest words I've learned since I came here came from the manager, and that's 'play the game, not the occasion'," explained the Denmark international while reflecting on United's performance against Sunderland.
"We've tended to slow down our pace when we've played opponents in a lower gear than ourselves. We have to do that better.
"I think we played very well defensively, we didn't let Sunderland have any chances almost the whole game. It's maybe the best we've played defensively all season, but there's still room for improvement."