Owen has no United regrets
Michael Owen has 'loved every minute' at Manchester United and has reiterated his desire to end his career at Old Trafford.
By Hayley Paterson
Last Updated: 19/11/11 1:22pm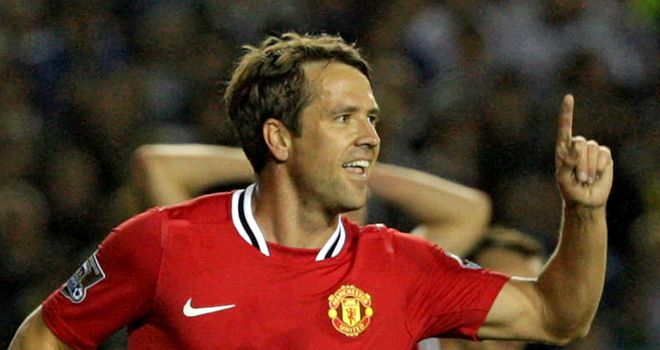 Michael Owen has 'loved every minute' at Manchester United and has reiterated his desire to end his career at Old Trafford.
With just one Premier League start this campaign and another spell on the sidelines through injury, Owen has endured an inconsistent career since moving to the red half of Manchester.
However, Owen remains optimistic about extending his Red Devils future after his one-year deal ends next summer.
"I don't think I'm going to do a Giggsy and play into my late 30s but I'll definitely do two, three, four years it just depends," the 31-year-old told Soccer Saturday.
"I would love to (stay at Manchester United). It might not be realistic because Man United are one of the world's best teams and there's always youngsters coming through and top players there, so I would love to but I'd have to be playing a little bit, a bit more.
"But I've spoken to the manager on these topics a few times so we'll sit down again at the end of the season and discuss where we've gone, but I've loved every minute of it.
Fantastic team
"My decision to go to Manchester United was one at the start of 'Okay I'm not going to play every week but I'll be keeping my level and standard high, training with the best players. When I do play fantastic team, stadium, fans playing under an unbelievable manager'.
"There was so much to look forward to, and I think people would be foolish if they think that I'd move to a team lower in the league when Man United were calling.
"As soon as the call, the first thing I thought was I'm going to see what the manager's like in his team talks - that was one of the main things that was exciting about joining Manchester United."
Having first burst on to the scene for Liverpool as a teenager and lighting up the Premier League with his pace and clinical finishing, Owen's career soared as Real Madrid required his services and he became an England regular.
However, now into his 30s Owen has admitted he has had to look at how he plays in games more closely and adapt.
On his early career days, he said: "You think about the game in a different way, you didn't have any fear, you didn't have any nerves, you just thought you were the best in the world.
Passion
"When you're a kid you just think you can run through walls, the older you get the more you analyse things, you maybe have a bit of doubt, thinking negative thoughts and you sometimes have to draw on your experience a bit and the way you think about the game is different.
"But the passion and the buzz for scoring and winning stays the same."
Owen has been largely overlooked during Fabio Capello's reign as England coach and believes Tottenham boss Harry Redknapp is a likely candidate to succeed the Italian after Euro 2012.
"We've got a decent team, we've got a very good team," he said.
"Personally I would like an Englishman (as national coach) to be honest, I've always been of the opinion that not just as a manager, your physio, your coach, your players, your manager, everyone, that is what your national team is about.
"England national team and you've got a Spanish or Italian or a French coach walking around with an English tracksuit on - it doesn't feel right in many ways.
"Harry Redknapp has been touted a lot. You'd have to say him wouldn't you?"