Streller - Pressure on United
Basel captain Marco Streller believes the pressure is all on Manchester United in their upcoming Champions League clash.
Last Updated: 06/12/11 5:51pm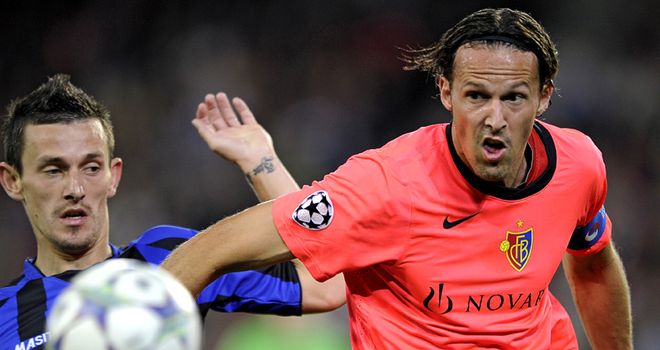 Basel captain Marco Streller believes the pressure is all on Manchester United in their upcoming UEFA Champions League clash and feels they did not take his side seriously in their previous encounter.
Back in September, United quickly went two goals in front against the Swiss champions at Old Trafford but were stunned by a three-goal second-half salvo from the visitors, with Ashley Young's last-minute strike salvaging a point.
The Red Devils travel to Switzerland for their final Group C game level on points with leaders Benfica, but know a defeat to third-placed Basel would see them eliminated at this stage of the competition for the first time in six years.
Streller admits that Sir Alex Ferguson's men may have under-estimated his side in their previous encounter but is sure that will not be the case this time around.
However, he also feels the pressure is all on the Premier League champions, with his side ready to take advantage of any slip-ups.
"At 2-0, it seemed to me they didn't take us seriously," he said.
"But after that, I know they will not underestimate us again. They will take us seriously because now they know we are a good team. We have proved it already.
Pressure
"Of course the pressure is bigger for them. In 99 per cent of the games they play, Manchester United are the favourites.
"I am sure they can cope with the pressure but maybe there is one or two percent in the back of our minds that can make it an advantage for us."
Basel coach Heiko Vogel revealed he is taking nothing for granted despite his side's encouraging display in September, pointing to United's excellent recent record in the Champions League as reason to be cautious.
"At the moment Manchester City are really in form in the Premier League, but maybe not so much in the Champions League," he added. "With Manchester United it seems to be the other way round.
"But they are still one of the strongest teams in the world.
"They reached the final last year and in 2008 they won the competition without losing a match, so we have to respect them."