Vieira sees United weakness
Patrick Vieira believes Manchester United should be worried about their future as the decision to bring back Paul Scholes shows weakness.
Last Updated: 21/03/12 1:19pm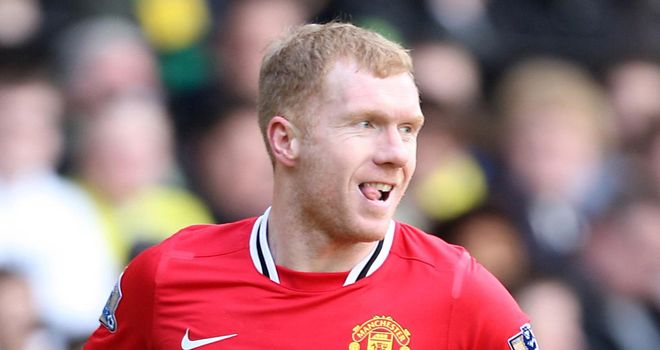 Patrick Vieira believes Manchester United should be worried about their future as the decision to bring back Paul Scholes shows they do not have the young talent at their disposal to replace him.
Scholes hung up his boots at the end of last season before reversing his retirement in January and making a surprise return to the United squad at the age of 37.
Vieira, 35, ended his playing career in 2011 to take up a role as football development executive with Manchester City, and he has a tremendous amount of respect for his old adversary Scholes.
Scholes has had a big impact since returning to the fold and Vieira is pleased to see him back on the pitch performing so well, but feels it is not something that United would have had to resort to in the past.
The Frenchman also thinks that United are struggling to develop the next generation of superstars at Old Trafford.
He said in the Daily Telegraph: "Paul Scholes is a player that I really love and admire, one of the best English players of the last few years, and seeing him come back is good for him and for United.
"But for him to come back just shows a little bit of weakness in United, because they had to bring a player back who was 37.
"I think it shows that, in the next few years, it will be really difficult for United to cope with other teams because, with all the respect I have for Scholes, him coming back shows that they don't have talent in there to replace him.
"When you see United losing young players like Ravel Morrison and maybe Paul Pogba, they should be really worried because that wouldn't have happened in the past."
Long way
While Vieira sees a brighter long-term future at the Etihad Stadium than Old Trafford, he also believes City can make up a four-point deficit to win this season's Premier League title.
He is targeting victory against Chelsea on Wednesday night but insists they would still be able to land the trophy if there is a slip-up against Roberto Di Matteo's Blues.
"When United lost (the title) to Arsenal, they were in Manchester and Arsenal were in London, so it is different." Vieira said. "It will hurt United a lot more to lose the title to City.
"The strength of United, I believe, is that they don't look at other teams or what they are doing.
"They just put their head down, concentrate on what they are doing and believe in what they are doing.
"This is a good example of what to follow, so we shouldn't think about what they are doing.
"Yes, United have a four-point lead at the moment and, of course, we have to win against Chelsea.
"But even if we don't win, it won't be the end of the world. It is not going to be the end of our chance to win the title.
"So many things can still happen and ten games is a lot. It is still a long way from the end."