Jol glad he turned down Fergie
Fulham boss Martin Jol says he is relieved he did not take up the post of assistant to Sir Alex Ferguson back in 2004.
Last Updated: 23/03/12 2:20pm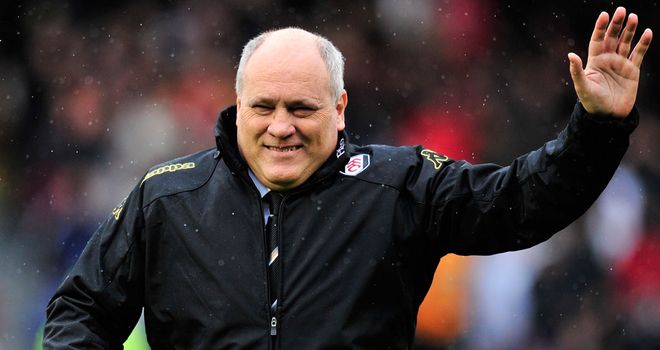 Fulham boss Martin Jol says he is relieved he did not take up the post of assistant to Sir Alex Ferguson back in 2004.
The Dutchman was in charge of RKC Waalwijk when he was approached by Ferguson about making the switch to Manchester United.
But the move quickly fell through when it became clear that former number two Carlos Queiroz wanted to return to Old Trafford after an ill-fated spell in charge of Real Madrid.
However, as the Fulham boss prepares to take up a seat in the visiting dugout on Monday night, he says he has no regrets about the incident.
"At that time I met him only to have a conversation with him about everything," Jol said.
"(The chance to become his assistant) was what he said afterwards. We talked football - they played Real Madrid with the 'big' Ronaldo - so it was nice.
"Later he said about the assistant manager post, but I remember his assistant Carlos Queiroz went to Spain to Real Madrid.
"He was sacked so there was always a possibility for him to take him back and that is what he did.
"I think that was good because I don't think I am the best assistant in the world.
Relationship
"I have a good relationship with (Ferguson). If you look at the stats, he is probably the best manager ever."
Jol has never beaten Ferguson in seven previous attempts, but possibly should have when the officials disallowed a long-distance Pedro Mendes effort, despite it clearly crossing the line, during his time at Tottenham.
"I can remember having a few good games and draws," he added.
"I can remember a game where it was 0-0, but we should have won because Pedro Mendes scored a goal that went over the line so in my mind I have beaten them once."
Monday's game could be pivotal in the title race, with United currently holding a one-point advantage over neighbours Manchester City at the top of the table.
Small difference
"There is a small difference between the two Manchester sides," Jol said.
"I would not put my money on either of them. City are strong and of course United have got all the experience.
"It is the same as always, we will have to wait and see.
"If we can get a result against United, it will probably make it a little bit easier for City. If not, then I think it will be a battle until the end of the season between them."