Fergie - United going for win
Manchester United manager Sir Alex Ferguson insists his side will be going all out for the win in Monday's potentially decisive derby.
Last Updated: 26/04/12 3:28pm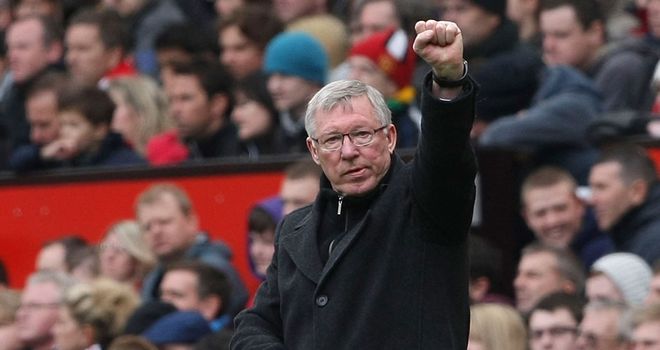 Manchester United manager Sir Alex Ferguson insists his side will be going all out for the win when they clash with Manchester City in Monday's potentially decisive derby.
City have closed the gap on Premier League leaders United to three points as they prepare to host their local rivals and could leapfrog them into the top spot with two games remaining should they triumph at the Etihad Stadium.
Roberto Mancini has claimed the Red Devils are firmly in the driving seat and that his City side have only a small chance of lifting their first league trophy since 1968.
But the Italian manager's defeatist talk does not wash with Ferguson, who is hoping to lead United to a 20th title.
And even though the Scottish boss knows a draw would be enough to keep United in a strong position, he insists his side will be going for victory.
Pressure
"Roberto wants to take the pressure off his own players," Ferguson told United's official website.
"It won't affect our approach or our attitude to the game. We know the situation we're in.
"We're in a better position than Manchester City. We could come out with two results, whereas they have to win. Although you know this club's attitude - we'll be trying to win.
"You would have to be a confirmed masochist to enjoy it. But we are looking forward to it and the players will be fully prepared for it."
Ferguson is keen for United to make amends after they threw away a 4-2 lead against Everton last weekend to drop crucial points, with the Merseysiders pegging them to a 4-4 draw.
"We're smarting from the four goals we gave away last week," he added.
"We tend to make it hard for ourselves. We subject our supporters to that sort of drama. For years and years, it's been like that. Hopefully, we'll make amends on Monday."
The city rivals have already met twice this season, with Mancini's side thrashing the Red Devils 6-1 in a memorable encounter at Old Trafford before United edged an FA Cup triumph 3-2 at the Etihad in January.
But Ferguson is adamant past results will count for nothing when the two sides collide and insists everything hinges on Monday's encounter.
Irrelevant
"I suppose when the fixture came out, it all pointed to this game," he said. "There was an inevitability to it. But we are where we are.
"Now it's all down to this game. It will be a fantastic atmosphere.
"I think the previous encounters this season are irrelevant. We've already met three times but the past is the past. It doesn't matter. It's all down to Monday."