Ferdinand fuming at Euro snub
Rio Ferdinand's representatives have accused the FA and Roy Hodgson of showing the Manchester United defender a 'total lack of respect'.
Last Updated: 04/06/12 8:29am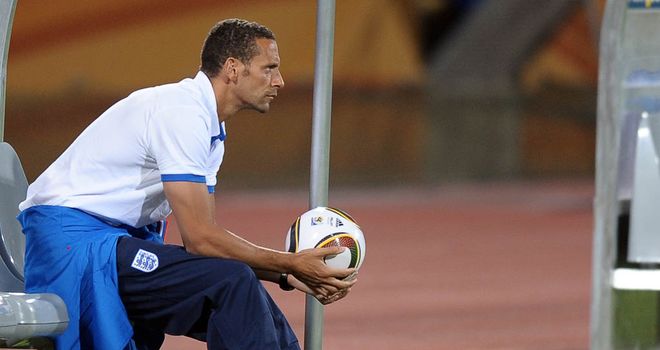 Rio Ferdinand's representatives have launched a fierce assault on the Football Association and Roy Hodgson after the Manchester United centre-back was again overlooked for an England call-up for Euro 2012.
The FA earlier on Sunday confirmed Gary Cahill had been ruled out of the tournament after fracturing his jaw in two places during Saturday's friendly win over Belgium at Wembley.
It meant Hodgson had another space to fill in his squad, having last week already used his standby defender, Phil Jagielka, to replace Gareth Barry.
Ferdinand, 33, would have been the obvious choice given his vast experience, a commodity which England have in the past week lost so much of following the injuries to Barry and fellow central midfielder Frank Lampard.
Instead, Hodgson has gone for Liverpool youngster Martin Kelly, who on 26th May made his international debut as a substitute in the final two minutes of the win in Norway.
'Footballing reasons'
Hodgson on 16th May faced a barrage of questions when naming his squad about whether he had snubbed Ferdinand because of concerns the centre-back would not be able to get along with John Terry, in light of the latter's impending court case for alleged racist remarks to Ferdinand's brother, Anton, at Loftus Road in October. Terry denies the charge against him.
And it appears the Ferdinand camp feel there is more to Sunday's decision than simply "footballing reasons", the grounds Hodgson gave for leaving the Manchester United man out of his initial squad.
Ferdinand's representative and long-standing friend, Jamie Moralee, said on Sunday: "Lampard, Terry, Barry, Gerrard; all ageing but they go to the tournament. Why is Rio different?
"To treat a player that has captained and served his country 81 times (in this manner) is nothing short of disgraceful. Total lack of respect from Hodgson and the FA as far as I am concerned."
Kelly, who made just 12 Premier League appearances for Liverpool last term, is bound to be relishing his chance.
More questions
But having lost the equivalent of 143 caps' worth of experience when Lampard and Barry were ruled out through injury, then bemoaned how much they would be missed, it is hard to believe Hodgson has ignored Ferdinand - who made 38 appearances last term and started United's last 16 Premier League games - on form alone.
That will bring yet more questions of the coach at the first available opportunity after England on Wednesday arrive at their Krakow base providing, as expected, Terry gets the green light to travel after an initial scan on the tight hamstring he experienced against Belgium indicated there was no serious damage.
"What reasons?????!!!", was Ferdinand's first reaction to his 2.8million Twitter followers as debate raged, indicating a sense of disenchantment that is magnified in private as the defender tries to comprehend the decision Hodgson has reached.
When he looks at the experienced players who have been picked, Ferdinand could be forgiven for feelings of total fury.
Under such circumstances, it is difficult to see Ferdinand adding to his haul of England caps.
Being passed over again means he will never get the chance to play at a European Championship, having missed out on four tournaments now for a variety of reasons.