Rio backing England
Rio Ferdinand will still be backing England at Euro 2012, while Steve McClaren has admitted Roy Hodgson was in a 'lose-lose' situation.
By Rob Parrish - Follow me on Twitter @skysportsrobp
Last Updated: 04/06/12 10:56pm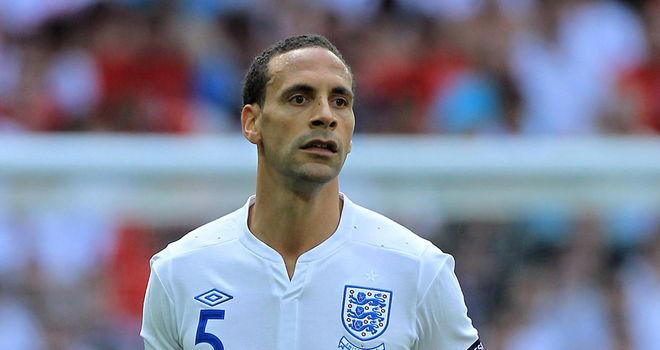 Rio Ferdinand insists he will still be backing England at Euro 2012, while former England boss Steve McClaren has admitted Roy Hodgson was in a 'lose-lose' situation over the defender.
Manchester United centre-back Ferdinand, who has captained his country in the past and earned 81 caps, was left out of Hodgson's initial squad for the European Championship.
With Gary Cahill ruled out of the tournament after suffering a fractured jaw in Saturday's friendly Wembley win over Belgium, there were suggestions the Red Devils stalwart could be given a late reprieve.
But young Liverpool right-back Martin Kelly was drafted into the party instead, with Ferdinand's representative launching an astonishing attack on Hodgson and the Football Association over their treatment of his client.
Ferdinand has attempted to smooth over the issue and pledged that he will be backing England from afar as they look to upset the odds and achieve glory in Poland and Ukraine.
Twisted
He wrote on Twitter: "Just so we don't get it twisted here... I'll be in a pub somewhere supporting England this summer! Love the lads!"
But McClaren is in no doubt that Hodgson's hand was forced by the impending court case involving John Terry, with the Chelsea defender accused of racially abusing Ferdinand's brother Anton during a Premier League match in October last year. Terry has denied all the charges.
Terry was stripped of the captaincy by the FA over the issue but remained available for selection and was included by Hodgson, with the widely held belief that both he and Ferdinand could not feature due to the possible ramifications for squad harmony.
FC Twente boss McClaren, who inherited the reins from Sven Goran Eriksson and then failed to guide England to Euro 2008 before being replaced by Fabio Capello, believes Hodgson had little choice but to exclude either Ferdinand or Terry to ensure a united dressing room.
"I think it is a bit of double-take again. There was initial shock when he (Ferdinand) was left out before and now with the injury to Cahill he has not been brought in," McClaren told Sky Sports News.
Controversial
"That is for obvious reasons. Roy Hodgson has a difficult job to do and he has to make big decisions. He knew when he got the job that this was probably going to be the most controversial and biggest decision he would have to make.
"He is making it for the good of the squad, for the good of the team, and for the good of the tournament coming up. It is always going to be sensitive with the court case coming up. It is a lose-lose situation for any manager.
"You are going to get a nation of opinions. When tournaments come up involving the national team it is always going to be a media circus. You can't get away from that.
"Roy has been very strong and very firm. He has done his homework, talked to the people involved, he knows the consequences of each decision he would have to make and the decision he has made he has made for the benefit of the squad and the team.
"I think he has had to choose between the two of them and he has chosen John Terry. In an ideal world without all the controversy around them he would take both of them.
"Only Roy will know the full facts. Only he will have spoken to the necessary people and gathered all the information to make a decision. You make a decision for the good of the squad, that is difficult, but that is one of the things the England manager has to do."