If RVP went to...
The chief bods at Football Manager have conducted a state of the art experiment to determine how wantaway Arsenal star Robin van Persie would fare at each of his summer suitors...
Last Updated: 13/08/12 11:13am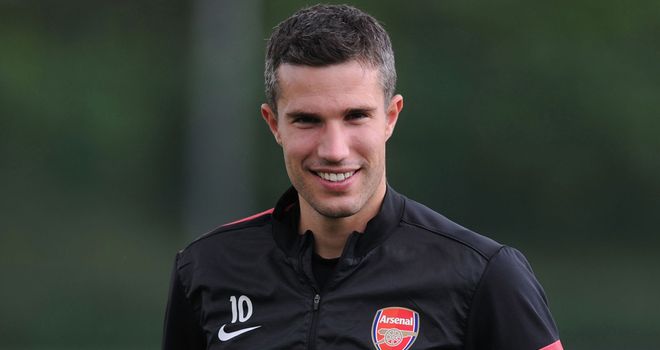 With Robin van Persie's future having occupied more column inches than the Olympics over the summer and still no closer to being resolved, we've turned to the experts to scientifically work out how he'd fare at each of his purported suitors.
Arsenal remain determined to keep the disgruntled Dutchman at the Emirates but given he's said there's no chance he'll sign a new deal in North London, this is one transfer saga that could rumble on until deadline day.
With this in mind, the experts at Football Manager have run five experiments on the new Football Manager 13 game to determine how Van Persie will get on next season depending on where he ends up.
Robin, if you're reading this and want to know how you'd do at Barcelona or AC Milan before making your decision, just get in touch via the feedback form below...
RVP at Arsenal
- Arsenal finish 4th, Van Persie gets 10 goals in 22 games
- Knocked out of CL in first knockout round
- No trophies won
- Van Persie is club top scorer, 3rd top scorer in PL
- 7.16 average rating
- Forms a good partnership with Podolski, who scores 6 goals in 29 games in a 4-2-3-1 formation, assists come from Ramsey and Wilshere
- Torn calf muscle means he misses 3 months
- Valued at £17.25M at end of season
RVP at United
- £25M transfer
- Man United win the league and Champions League and RVP is instrumental in their success - More appearances than anyone else (46) and top team scorer with 24 goals in the Premier League
- Average rating of 7.59
- Rooney and RVP are a deadly partnership together
- RVP second top scorer in PL and Footballer of the Year runner-up
- £21.5M value after 2012/13 season
RVP at Chelsea
- We took the decision to remove Torres from Chelsea to give RVP a fair chance of being the number 1 striker
- £25M transfer
- Chelsea 2nd to United in PL but win FA Cup and Europa Cup after exiting CL in group stages
- Van Persie instrumental in their campaign - 56 games (all starts), 25 goals, 16 assists, 8 MoM awards and 7.58 average rating
- Forms an excellent partnership with Hazard who gets 24 assists for season as well as 19 goals for himself
- RVP 34 apps, 13 goals in PL
- Runner up in Players' Player of the Year and makes team of the year
- Arsenal finish 5th, Podolski and Walcott doing their best to replace RVP
RVP at City
- £25M transfer
- City finish 2nd to United despite racking up 90 points as United finish on 94
- Van Persie makes 46 appearances (36 starts) scoring 22 goals
- Aguero and RVP preferred strikers. Aguero gets 15 goals in 43 games (42 starts)
- RVP club top scorer, 15 league goals
- Win the FA Cup and Community Shield
- Lose to Barca in 1st knockout round of CL
- RVP average rating of 7.22
- £16M value by end of season
- Arsenal finish 5th without RVP. They don't win any trophies
- Goals shared among the strikers (mostly Podolski and Giroud)
RVP at Juventus
- £25M transfer
- Juventus finish 4th in Serie A
- Van Persie makes 33 appearances, scoring 15 goals
- Average rating of 7.43
- Awarded Serie A Player of the Year, Serie A Foreign Player of the Year and Serie A Fans' Player of the Year
- Doesn't win any trophies
- £23M value by end of season
- No injuries
- 16 apps, 8 goals in Serie A