The Dynamic Duo?
It was expected to be a dream partnership. But early in the season, there is evidence Robin van Persie and Wayne Rooney could be in direct competition for a place in Man Utd's first team. Peter Fraser was at Old Trafford to watch Saturday's 3-2 victory over Fulham
Last Updated: 25/08/12 9:53pm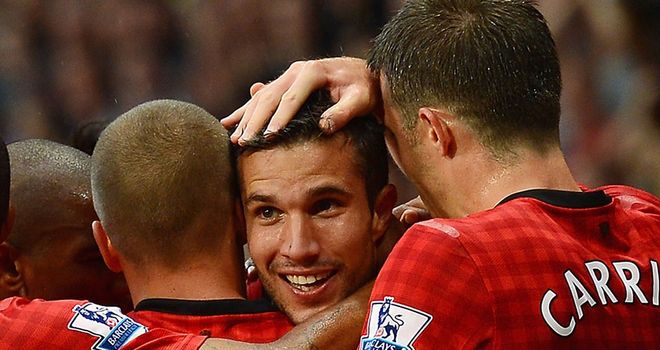 The fanzines on Saturday afternoon outside Old Trafford carried on their covers the image of Robin van Persie mocked up alongside Adam West's Batman in a familiar superhero combination.
In theory, the Dutchman's £24million move earlier this summer from Arsenal was to form a Dynamic Duo with Wayne Rooney. Between them, the pair last season scored 57 Premier League goals. The arrival of United's new No.20 had reinstated a fear factor among the scourge of the top-flight's defenders.
But Sir Alex Ferguson in his manager's programme notes ahead of Saturday afternoon's 3-2 victory over Fulham admitted the prospect of selecting from Van Persie, Rooney, Javier Hernandez, Danny Welbeck and Shinji Kagawa - the Japanese import from Borussia Dortmund - was 'a problem'. That was without even mentioning Dimitar Berbatov, who still remains at the club.
In Old Trafford's first Premier League game of 2012/13, the decisions facing Ferguson were more than evident. On Van Persie's home debut, and having on Monday night featured as a substitute in the defeat at Everton, the Holland striker started in place of the benched Rooney. The latter's afternoon was to go from bad to worse, as after being introduced in the second half he was stretched off following a collision with Hugo Rodallega. Welbeck, another second-half substitute, and Hernandez were also non-starters. Kagawa kept his place in the first XI and justified his inclusion with a goal in another classy performance. The playmaker has made a brilliant start to life in England.
Rooney, though, was a surprise omission. England's star man, owing to his international suspension, played 63 minutes less than Van Persie at Euro 2012, he was well rested from the summer and had pre-season in which to build his fitness. Van Persie, meanwhile, had played just 20 minutes for Arsenal in the build-up to the new campaign.
United's Scouser had struggled against Everton, as he has done previously in games versus his former club. He seemed to be lacking sharpness and in the 22 minutes he shared on the pitch with Van Persie at Goodison Park there was little sign of an immediate and early connection or partnership.
Rotation
Ferguson, seemingly as a consequence, turned to Van Persie to spearhead his attack against Fulham. The United boss had used his programme notes to ease the pressure on Arsenal's former captain, as he said: "Expectations are high but you have to be fair in what you ask of players and I know that our new man is going to be a tremendous asset. I don't think we will have to change our style of play to get the best out of our high-scoring Dutchman, because he will fit in perfectly with our vision of how the game should be played."
But is that 'vision' of an attack containing Van Persie and Rooney, or of both players being used in rotation to add competition for places? United need only look at last season's example of Chelsea for evidence of the difficulty in fitting Didier Drogba and Fernando Torres, two undoubtedly world-class strikers, into the same first team.
If it is to develop into a fight for a place in Ferguson's starting line-up, Rooney will be slightly anxious and particularly so after being ruled out for up to four weeks as a result of his injury. In the opening 10 minutes against Fulham, Van Persie and Kagawa showed some lovely combinations. The former rarely strayed from the arc of the edge of the penalty area, laying the ball off, twisting and sprinting towards either post in anticipation of a cross from wingers or constantly attacking full-backs.
Having fallen behind to Fulham's ingeniously worked set-piece opener through Damien Duff, that was how United's equaliser arrived. Van Persie showed the reflexes which made him last season's Premier League top scorer. Darting off the flat-footed Fulham captain Brede Hangeland, he was out of the blocks quicker than Olympic legend and United fan Usain Bolt, who was paraded before kick-off, to wrap his left boot around a Patrice Evra cross and send the ball curling inside the far post. Mark Schwarzer was helpless. Trademark Van Persie.
Not so in the 19th minute, when a Van Persie free-kick from the right failed to beat the first man at the near post. Van Persie slapped his own hands together in frustration. A 21st minute corner was then headed clear by Bryan Ruiz. Van Persie had the chance to roam as the half developed and at times found himself on the right-hand side. He was also the man required to drop back to defend the near post at opposition corners while Kagawa was the player who stayed up-field.
But it was in the 35th minute Van Persie's right-side corner which caused problems for Fulham's defence, who only half cleared before Tom Cleverley's follow-up was spilled by Schwarzer to give Kagawa a simple tap-in. United were in front. Kagawa's freedom to roam, nimble runs and clever passes were the trouble for Fulham and he appeared to have struck a nice connection with Van Persie. There was a fluidity to United's attacks as Van Persie, Kagawa, and advanced midfielder Cleverley took it in turns to time their runs.
Lack of fitness
Van Persie's short corner with Antonio Valencia before half-time led to United's third goal from scorer Rafael Da Silva. Van Persie was among the back-slapping celebrations which followed and it was clear the men on the pitch were enjoying themselves. Rooney sat with a slight frown on the bench alongside Hernandez and Welbeck.
In the second half, Van Persie became less of a presence in a possible sign of his lack of match fitness. But it was also because United showed greater poise from a first half in which they had been required to chase the game from a goal down before building a lead. A pinpoint cross still found Rafael and was headed just over by the energetic full-back.
Just seconds after, Rooney emerged from the United bench for the first time to warm-up on the touchline to the familiar Old Trafford chants of his surname. Shortly after and exactly as he had done at Everton, Ferguson again gave Rooney and Van Persie a total of 22 minutes together. Kagawa was the man to come off.
Van Persie could be seen stretching his calves and hamstrings as Rooney was introduced. The man from Rotterdam was clearly feeling the pace without a proper pre-season. A clobbering Hangeland challenge then left him in a heap but he was back on his feet to cross the free-kick to the head of Rooney, who nodded well wide. With Kagawa off the field, Van Persie was the man linking midfield to the attacking point-man of Rooney.
This was seemingly because Van Persie's legs no longer had the energy to lead the line. The Dutchman's fatigue is also the reason why it is not possible to directly compare his impressive partnership with Kagawa against Fulham to that of his less effective time this weekend with Rooney.
But it would appear Kagawa is the man who makes United tick and Van Persie is a well-suited benefactor. In the first half, last season's Premier League runners-up looked a far better side than the one who started and lost at Everton. On this evidence, Japan international Kagawa is a certain first-team member.
But whether Ferguson can also regularly fit both Rooney and Van Persie into the same starting line-up in the future remains to be seen. The only positive which could be taken from the sight of an injured Rooney being carried away from the field is maybe that United's manager does not have a decision to make for the next month.