Kagawa wants more from United
Rising star Shinji Kagawa has called for Manchester United to show more belief in order to make the best of his talents.
Last Updated: 27/08/12 12:58pm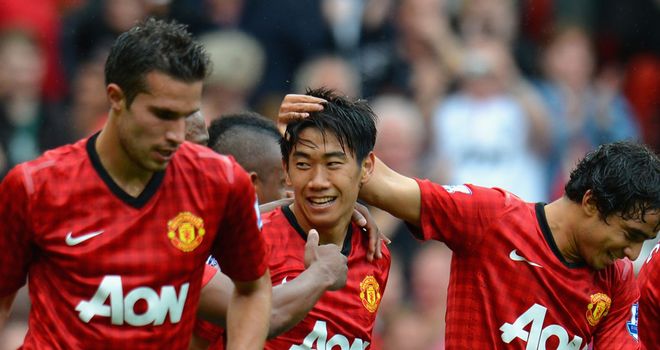 Rising Manchester United star Shinji Kagawa has called for his new team-mates to show more belief in order to make the best of his talents.
The £12million summer signing put in another classy performance on Saturday in the 3-2 victory over Fulham at Old Trafford.
Kagawa, on his home debut, scored United's second goal and also built on his impressive display from last Monday amid his club's ultimately disappointing defeat at Everton.
The playmaker this weekend enjoyed a promising partnership with Robin van Persie, which bodes well after Wayne Rooney was ruled out of four weeks, but he also wants more from his colleagues.
Kagawa said in the Daily Star: "I want to improve parts of my game. I think the combination play with the other players will improve match by match.
Brilliant
"We pass the ball sideways a lot, but I want my team-mates to pass the ball forward to my feet. I need to speak to them about this.
"I want them to have the confidence to play it up to me when I'm ahead of them. That is one of my strengths and style. I want to be on the ball more. I want to be busier."
England international Tom Cleverley is one of the men tasked with feeding the ball to Kagawa and the midfielder thinks the former Borussia Dortmund man already looks an excellent signing.
Cleverley said: "He is brilliant. He has settled in really well. He links defence with attack. He gets on the half-turn and creates chances.
"I cannot speak highly enough of him. I love playing with him - one and two touch, high-energy football. We are on the same wavelength."