Rooney - No hiding place
Wayne Rooney is aware that he cannot afford to allow his standards to drop if he is to remain on the right side of demanding boss Sir Alex Ferguson.
Last Updated: 05/09/12 9:27am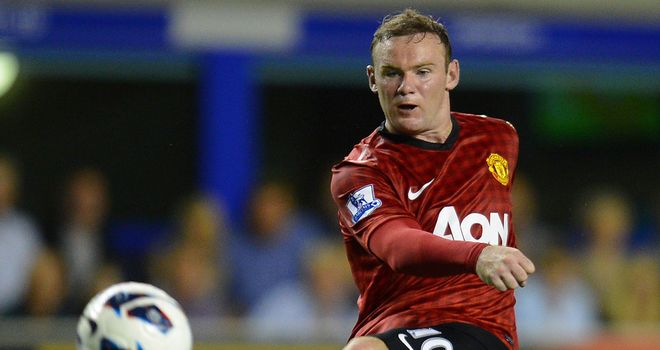 Wayne Rooney is aware that he cannot afford to allow his standards to drop if he is to remain on the right side of demanding Manchester United boss Sir Alex Ferguson.
The England international has already found himself dropped from United's starting XI this season, with a forgettable afternoon against Fulham seeing him benched before picking up a nasty leg injury.
Ferguson conceded after that game that fitness concerns had led to Rooney's omission, with the powerful forward in need of some fine tuning.
Rooney concedes that he has to work harder than most in order to keep his weight down, but insists he has no qualms about being given the odd reminder by a manager who expects the very best from all of those at his disposal.
"As a striker I need to work hard all the time. I need to be sharp, which means my fitness has to be right to play well. If it isn't, it shows," he told the Daily Mirror, who are serialising his latest autobiography.
"It would probably be different if I were a full-back. I could hide a bit, make fewer runs into the opposition half and get away with it.
"As a centre-forward for Manchester United, there's no place to hide. I've got to work as hard as I can, otherwise the manager will haul me off the pitch or drop me for the next game.
"There's no room for failure or second best at this club."
Standards
Rooney admits he found out the hard way last year how ruthless Ferguson can be when wielding the axe, but insists he remains fully committed to the United cause.
"I'm happy at Manchester United, despite the downs that sometimes take place at a football club," he continued.
"Like when we stuff Wigan 5-0 on Boxing Day. I go out for dinner with a few of the lads, and our other halves, to a hotel.
"The next day, the manager pulls me up and tells me he's not happy and doesn't feel I've trained properly.
"He fines me, but there's worse to come. I'm dropped for the next game, on New Year's Eve, against Blackburn.
"At a lot of clubs, people wouldn't bat an eyelid at players having a night out six days before a game. But that's the difference at Manchester United and a mark of the high standards the manager demands."
Battering
Rooney has also revealed that his body is not as durable as it used to be, with 10 years at the top of his chosen profession having taken its toll.
"Physically I've taken a bit of a battering over the years; being lumped by Transformer-sized centre-backs or having my muscles smashed by falls, shoulder barges and last-ditch tackles, day in, day out, has left me a bit bruised," he said.
"When I get up in the morning after a game, I struggle to walk for the first half-an-hour. I ache a bit. It wasn't like that when I was a lad.
"I remember sometimes when I finished training or playing with Everton and United, I'd want to play some more. But football has had a massive impact on my body because my game is based on speed, power and intensity.
"Like any player I'm fearful of getting a career-ending injury. I could be in the best form of my life and then one day a bad tackle might finish my time in the sport. It's over then.
"But that's the risk I take as a player in every match. I know football is such a short career that one day, at any age, the game could be snatched from me unexpectedly.
"So I want to decide when I leave football, not a physio, or an opponent's boot."