Fergie focus on Gala
Manchester United boss Sir Alex Ferguson says he is preparing to meet Galatasaray next week with a renewed sense of focus.
Last Updated: 18/09/12 12:43pm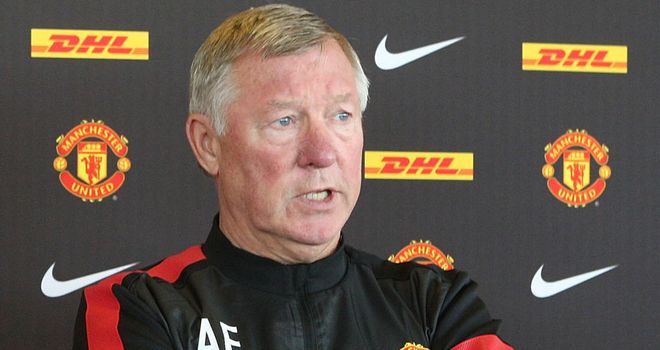 Sir Alex Ferguson is preparing to meet Galatasaray next week with a renewed sense of focus - but he accepts it is the trip to Istanbul in November that he is really looking forward to.
After last season's Champions League debacle, when Manchester United crashed out at the group stage for only the second time, Ferguson is determined not to get it wrong on this occasion.
Beating Galatasaray at Old Trafford would be the perfect start to a campaign that also features a second successive trip to Romania, this time to take on CFR Cluj, and also back-to-back encounters with Portugal's FC Braga.
But it is that trip to Turkey that revives all the memories. In 1993, United were greeted by 'Welcome to Hell' banners at the Ali Sam Yen stadium. Amid chaotic scenes, Eric Cantona was sent off and Bryan Robson was hit over the head by a police truncheon as United were eliminated.
United have been back since, and Galatasaray have also changed stadiums, but Ferguson has never forgotten.
Hell
"Our fans don't need reminding about Galatasaray," he told MUTV.
"I remember our first game there, when we arrived at the airport and there were all these banners, 'Welcome to Hell'.
"Eric Cantona was sent off. Bryan Robson was hit by a policemen's truncheon. It was a nightmare.
"The one good thing about that game is that the atmosphere will be fantastic. The fans will be in the stadium from lunchtime, shouting, singing and bawling. They make such a racket."
Ferguson admits he knows little of Cluj, who gave Chelsea two tricky games in 2008 without managing a victory.
Braga are rather better known and by gatecrashing Portugal's elite, Ferguson expects them to be the greatest threat to a smooth progression into the knockout phase.
It was something United missed out on last term, winning just two of their six matches and losing their final group game in Basle when only a draw was required.
Ferguson is promising not to make the same mistakes again.
"You always have to respect your opponents in this situation," he said.
"Last year we were a bit careless with the group.
"It looked easy but didn't turn out that way so there will be no complacency this time.
"I will play my best team to make sure we qualify."
Fletcher
Ferguson admits he will not be using Darren Fletcher next week but instead is eyeing the Capital One Cup tie with Newcastle on September 26.
"I have to make my mind up about Darren," said Ferguson.
"I am just looking at the options but it is a possibility. The important thing is that he is back in the squad.
"I am looking at the Newcastle cup tie as a starting point for him because we alter the make-up of the side for these games.
"At this moment in time, everything is looking fine for him.
"We understand the type of condition he has to deal with and it could change.
"But hopefully he has managed to conquer all that in terms of his diet and how he handles it."