Patrice Evra is upset after Manchester United lose at home to Tottenham
Manchester United defender Patrice Evra was left devastated with his team's first half performance against Tottenham
Last Updated: 30/09/12 2:34pm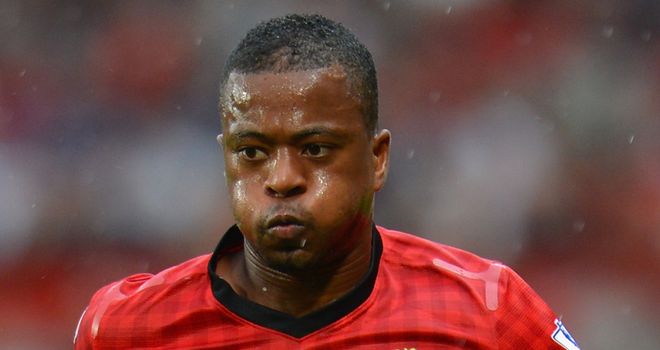 United showed some fight having trailed 2-0 at the break, but eventually lost 3-2 after a pulsating finale at Old Trafford with Wayne Rooney and Michael Carrick hitting the woodwork.
"The result is what happens when you only play for 45 minutes," the French left-back said after his team lost for the second time this season.
"The game is 90 minutes long and we deserved to lose because we only played
for 45. To concede three goals at Old Trafford is not good enough.
"The problem is in our heads. It looked like we stayed in the hotel. The first 45 minutes had no speed, no focus, we didn't win a lot of challenges and we conceded some silly goals.
"Maybe I am hard with myself and the team but we only showed the United face in the second half. This is not enough if we want to win the title."
Positive
The positives to be gained from a vastly improved second-half display, triggered by the introduction of Wayne Rooney, were tempered by the sight of Jonny Evans hobbling away after the final whistle.
Sir Alex Ferguson said afterwards the Northern Ireland defender was suffering from nothing worse than a dead leg and would be fit for Tuesday's UEFA Champions League encounter with CFR Cluj.
If Ferguson is not correct in his assessment, rookie Scott Wootton could be in for the biggest game of his fledgling career as United look to build on their success over Galatasaray.
However, against Romanian opponents who took advantage of Braga's profligacy to record a surprise win in Portugal a fortnight ago, United cannot afford a repeat of what unfolded on Saturday.
"We have to be positive," said Evra. "It's not a bad start to the season.
"We won at Anfield, which we didn't do last season, even if they played much better than us.
"We still have a lot to do, but we have to forget that first half against Spurs.
"I hope it was just an accident and we can get back the winning mentality that we showed in the second half in the Champions League and against Newcastle on Wednesday."