Scott Wootton hopes to cap meteoric rise to Manchester United first team
Scott Wootton is hoping to capitalise on Manchester United's injury crisis and prove his worth as a first team player.
By Rebecca Stephenson (@1rebs)
Last Updated: 04/10/12 5:22pm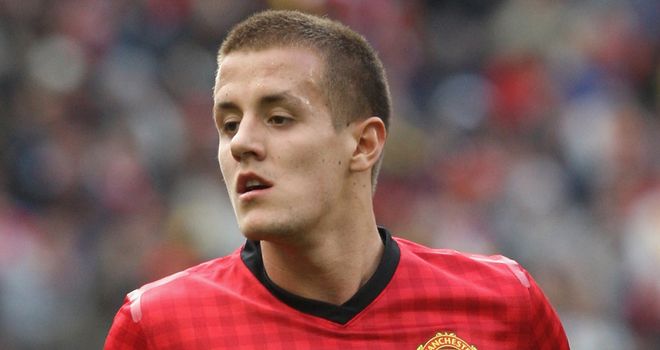 The 21-year old made his full debut for the club in the Capital One Cup win over Newcastle, and came on as a substitute during the victory in the Champions League on Tuesday.
He could even be called on to make his Premier League debut on Sunday if Jonny Evans is unable to recover from the dead leg he suffered in Romania.
But whilst the majority inside Old Trafford are worried about the lack of experienced defensive options, Wootton is revelling in the opportunity.
He said: "The last week or so has been amazing. To make my competitive debut in the League Cup and then to come on and play in the Champions League is a great feeling.
"It's something I'm made up with.
"It is always the way. As a young player, obviously you don't wish injuries on someone, but that's how you might get your chance.
"I got my chance against Newcastle through injuries. It's just the way it is."
The Merseysider was originally on the books of Tranmere before moving to Liverpool's academy. But he hesitated over signing schoolboy forms at Anfield and took up the opportunity of a trial at old Trafford.
"I wasn't too sure whether I was going to sign for Liverpool," the Evertonian continued.
"United invited me down for a week's trial and said they wanted to sign straight after that. It was really good."
He meteoric rise is illustrated by his ability to still watch the games almost unnoticed amongst the United fans - as he did last month when Sir Alex Ferguson's men won at Anfield.
"I was never a Liverpool fan or anything like that, so I just went mad like everyone else when Robin van Persie scored," he added
And the defender is determined to keep his feet on the ground.
"You want to progress as a footballer and these are the next steps," he said.
"Obviously there are some extra special things like the team talks, coming away with the first team and the fans, which are different from what you're are used to.
"But you just try and concentrate on your football just the same.
"And as everything is that extra step quicker, you've always got to concentrate; you can't switch off for one minute."