Newcastle manager Alan Pardew hit out at Robin van Persie and accused the Manchester United striker of Yohan Cabaye elbow
Alan Pardew is calling for action to be taken against Robin van Persie after accusing him of elbowing Yohan Cabaye
Last Updated: 08/10/12 9:47pm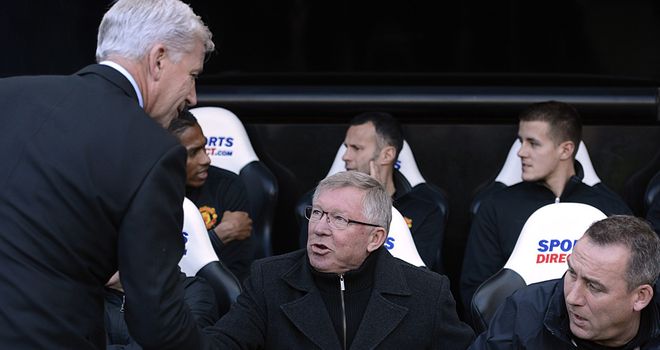 Pardew claims the Dutch striker swung an arm at Cabaye in an off-the -ball incident in the closing stages of Sunday's game at the Sports Direct Arena.
Van Persie was also involved in an incident with Newcastle goalkeeper Tim Krul last season and Pardew demanded the latest spat be investigated.
"He has looked at Yohan and he has elbowed him, and I think that perhaps needs to be looked at, if I am honest," said Pardew.
"There's a bit of history from last year and I don't know if Robin has been caught up in that, but that was just a little bit unsavoury.
"I actually thought Yohan wouldn't have gone down if he hadn't done something.
"I didn't see it myself, but I have obviously seen it on the replay and it looks like he has looked at him and put his elbow there. That is for them to look at [the FA], not me."
Referee Howard Webb took no action after the incident but the FA will await his report on Monday before deciding whether or not to take further action.
Newcastle's players thought Papiss Cisse had scored in the second half but replays showed David De Gea had appeared to do enough to keep his header out.
After looking at the incident again, Pardew admits the ball did not appear to go in.
He said: "The turning point was probably whether the ball went in or not and it looks like it just didn't.
"So it's disappointing because at the time I thought it was in by the reaction of the players.
"I think it's tight. Looking at the angles I've looked at it looks like it hasn't gone over the line."