Premier League: Jonny Evans leads praise of Manchester United's Rio Ferdinand
Manchester United defender Rio Ferdinand is as good as he has ever been, in the opinion of his club-mates.
Last Updated: 08/10/12 9:04pm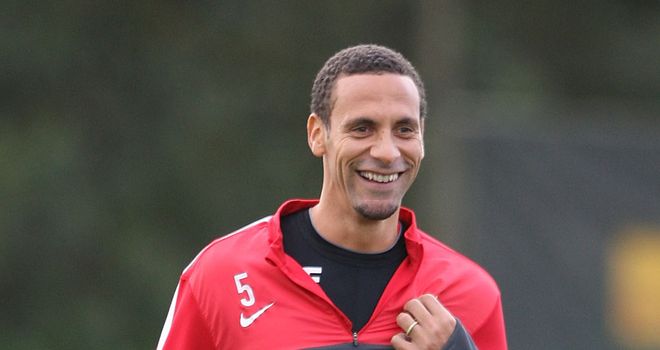 Again left out of the England squad for the upcoming World Cup qualifiers, Ferdinand was on the right track in Newcastle on Sunday.
The 33-year-old showed all the old poise to stroll through a 3-0 win over Alan Pardew's men that kept United in touch with early Premier League pace-setters Chelsea.
Afforded more protection by United's new diamond formation than he received the previous weekend against Tottenham's speedsters, Ferdinand showed he remains a class act.
Not that the United dressing room ever felt otherwise, as defensive colleague Jonny Evans said: "Rio is quality.
"He is so experienced. He cruises through games.
"He comes off at the end and there is not a bit of sweat on him. It looks like could play on and on."
That is the reason why there were calls for Ferdinand to be recalled by Roy Hodgson for the forthcoming games with San Marino and Poland.
Sir Alex Ferguson is doubtless glad Hodgson has chosen a different route given the delicate nature of his defensive resources, even when Chris Smalling gets ready to return from his broken metatarsal after the international break.
Nevertheless, the defence of Hodgson's position, if not by him then by others who share the same opinion, has brought criticism Tom Cleverley cannot fathom.
"Rio has had one bad game in six months," said the midfielder, who scored United's brilliant third, even if his manager insists he did not mean it.
"We have conceded a few goals and made a few silly mistakes this season. But I couldn't believe some of the stuff I have read about Rio in midweek. He has definitely not deserved that."