Robin van Persie: I am surrounded by champions at Manchester United
Robin van Persie hails his Manchester United team-mates and says that they all have a winning mentality.
Last Updated: 02/01/13 1:53pm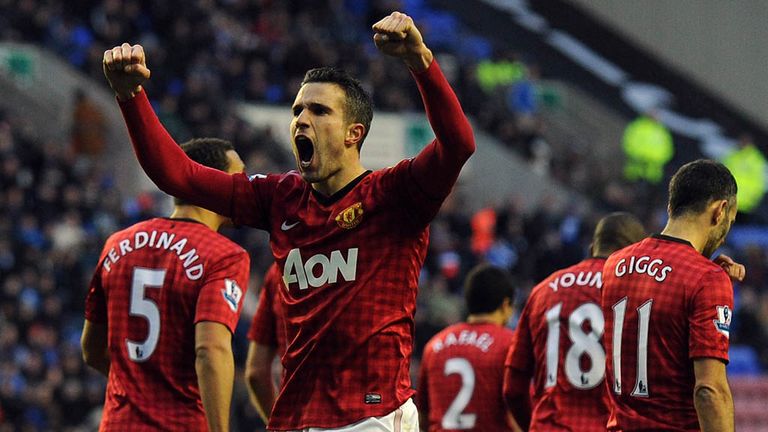 The 29-year-old, who joined United from Arsenal last summer, has scored 16 goals in 21 appearances in the Premier League this season.
Van Persie was on target twice on Tuesday as United defeated Wigan Athletic 4-0 away from home to maintain their seven-point lead at the top of the table.
"This is a special team," he told MUTV. "Everybody wants to help each other. Everybody's keen for everyone to score.
"Defenders are working their socks off for the midfielders, the midfielders are working for the strikers.
"Everybody wants to run and everybody has one target in their mind.
"We have to look at it game by game but everybody wants to be champions. I feel that I'm surrounded by champions.
"They know how to win and that makes it really easy for me."
Van Persie was also pleased with United's performance against Wigan and is hopeful of carrying on winning.
"It was a very good performance, we scored the goals at the right time," said the Dutchman.
"We've played Wigan twice this year and won 4-0 both times, so that's good for goal difference.
"Everybody's helping each other and everybody wants to share the goals. Look at the last goal - Danny [Welbeck] wanted to give the ball to me so I could score.
"Everybody's like that. I'm like that, Chicha [Javier Hernandez] is like that. Everybody wants to share the goals and that, in my opinion, is the way to score heaps of goals.
"Hopefully we can keep it going. We've had a couple of games where we've had high scores but we want to score even more goals because that could be vital come the end of the season."
Van Persie reflected on his two goals against Wigan at the DW Stadium, saying: "[Javier and I] scored two goals each and he gave a really good pass for my first goal.
"It was a good goal because every single touch was the right touch, in my opinion.
"The first one was a little behind me and I had to drag it onto my left foot. That was a good touch.
"Then I waited for the guy to slide in, had a good touch inside and then a quick finish. Three touches but all good touches."