Manchester United boss Sir Alex Ferguson made extra effort for Robin van Persie
Manchester United manager Sir Alex Ferguson has admitted he made an extra effort to snare Robin van Persie.
Last Updated: 11/01/13 2:47pm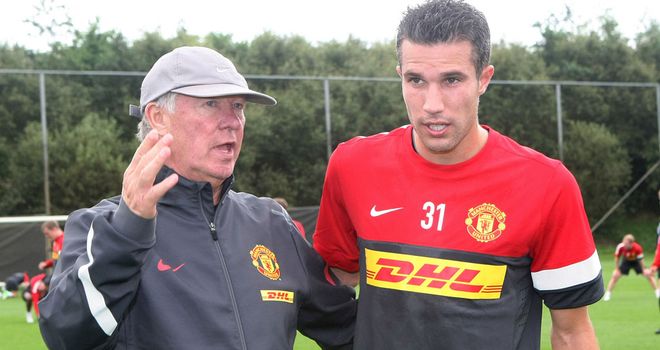 After years of investing in value and youth, Ferguson spent £24m on a 29-year-old, but his investment has paid off handsomely with Van Persie bagging his 20th goal of the season at West Ham last weekend.
"It was a lot of money for a player in the last year of his contract," said Ferguson.
"But the thing about it is - as it proved with Manchester City the year before when they paid £24m for Samir Nasri - you either want him or you don't.
"You have to pay the price that the club are sticking out for, whether it is one year on his contract, two or three. We wanted him badly, so we were prepared to go the extra mile.
"I expected his signing would be important for us, I really did. Any player coming to us for the first year, you never know for sure.
"Who would have thought Wayne Rooney would have got a hat-trick on his debut? It is fairytale stuff.
"But what we did know was that we were signing a very good player."
As to Sunday's Sky Live meeting with Liverpool, Fergsuon is expecting another thorough examination of his side's title credentials.
"It is Liverpool," said Ferguson. "A derby game. That never changes. It is always an immensely important game.
"It is intense and emotional. Everything you can think of in a derby game will probably be there on Sunday."
Manchester Utd v Liverpool is live on Sky Sports 1 this Sunday. For more details click here