Patrice Evra says Manchester United looking forwards as they eye Premier League title
Patrice Evra says Manchester United are looking forwards rather than over their shoulders as they bid for the title.
Last Updated: 14/01/13 3:58pm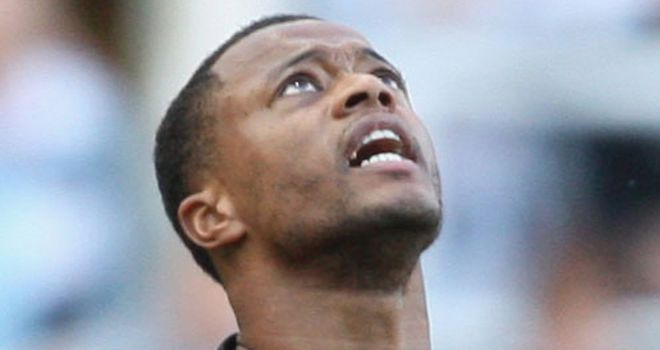 Fierce rivals Manchester City are seven points behind Sir Alex Ferguson's side at the summit - one less than the margin they hunted down at the end of last term to lift the trophy for the first time since 1968.
But Evra says his team-mates are focused on their own run-in, rather than that of their neighbours.
"This year we are focusing more on ourselves whereas last year we were more worried about City," Evra told Canal+.
"There was too much focus on what they were going to do in their next game.
"But this year it's about us. By having a good season, we will become the champions.
"We finished last season with the same number of points as the champions and it is obvious we are stronger than last year given the addition of players like Van Persie and Shinji Kagawa."
Since a defeat at Norwich on 17 November, United have won nine out of 10 games and drawn the other.
Depending on how United's second goal in Sunday's victory over Liverpool is viewed, Sir Alex Ferguson's squad either have 18 goalscorers in their midst, with Nemanja Vidic the latest addition, or Evra has five, not bad to say he only scored three times in his first six and a half years.
"He [Vidic] said it's my goal but I don't know," said Evra. "Maybe if it was a striker, they would give the goal to (Wayne) Rooney or Van Persie.
"But maybe because it's Evra they will not give the goal to me."
Navigate
Such arguments are mere side issues now, with United sizing up a trip to Tottenham on Sunday knowing they must navigate an FA Cup third-round replay with West Ham on Wednesday first.
Vidic's exit after taking a smack on the head will probably rule him out, whilst Ashley Young seems certain to spend an extended amount of time on the sidelines after coming off worst in a crunching first-half duel with Daniel Agger.
The bonus of a severe injury to Young will be the knowledge Ferguson has stated Nani is ready to make his return from hamstring trouble.
However, unless Johnny Evans shrugs off the hamstring injury that kept him out yesterday, Chris Smalling and Phil Jones are likely to become the 12th different central defensive partnership Ferguson has used this season.
Not that Rio Ferdinand - who has not scored for almost five years - believes such upheavals are a major inconvenience anyway.
"It doesn't bother me who I play with and that speaks volumes for the squad," he said. "That is the most important thing.
"It is great to have players of Vidic's quality back because he is top drawer. We know each other's game inside out and it has been like that for a long time.
"But when the manager can't call upon him, or anyone else, he can have 100% faith in their replacements.
"Jonny Evans has done fantastically well when Vidic has been out. Chris Smalling has done well when he has come in and so has Phil Jones. That is more important than any individual."