Manchester United's Jonny Evans keen to emulate Rio Ferdinand and Nemanja Vidic
Manchester United's Jonny Evans remains determined to meet the standards set by Rio Ferdinand and Nemanja Vidic.
Last Updated: 24/01/13 1:04pm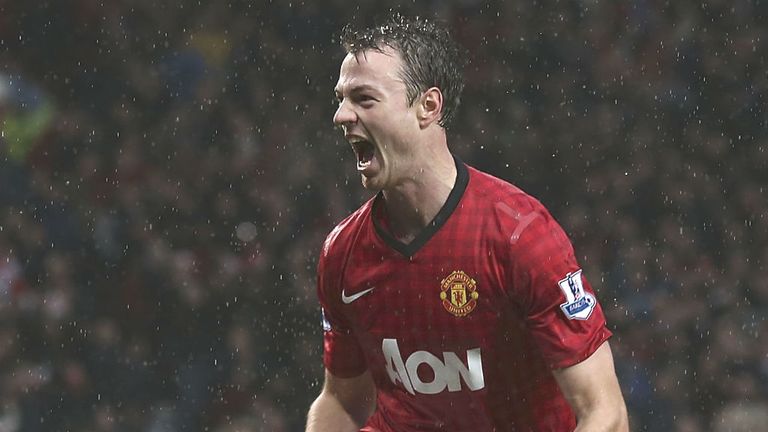 Ferdinand and Vidic were restored at centre-half for United's last two Premier League games, with Evans having missed the last three encounters with a hamstring injury.
The Northern Ireland international could return at the back for Saturday's FA Cup fourth-round visit of Fulham, having started their first third-round clash against West Ham.
Evans is happy to be earning opportunities at the club but says he still has massive respect for the experienced defensive pairing.
"When I first came into the first-team squad, the level that those two were playing at was unbelievable," he told the Manchester Evening News.
"The presence they have, the way they could defend, it was the very top. For younger players to try and emulate that was a big ask. It still is.
"But for me coming through the youth team looking at these two fantastic players, it was all about trying to get to that level - not necessarily as quickly as possible, but just to the best of my ability.
"I just tried to be as good as I can be really. That's been the challenge for me.
"It's not really been the challenge of getting into a normal first team - it's the challenge of trying to reach a standard set by Rio and Vida, two of the best centre-backs in the world."
Relaxed
Evans has scored four goals for United in all competitions this term and feels that side of his game has developed as a result of him being more at ease in the team.
"I'm older, more experienced and more confident, so I just relax more," he added.
"The first couple of years I was so desperate to score I was probably going up the other end of the pitch and not thinking about what I was actually doing. I was just thinking, 'I need to score, I need to score'.
"Sometimes you've just got to have that bit of composure, not try too hard and get yourself in the right positions."