David Beckham hopes to emulate Manchester United's veterans at Paris St Germain
David Beckham is inspired by ex-Manchester United team-mates Ryan Giggs and Paul Scholes to shine at Paris St Germain.
Last Updated: 08/02/13 6:06am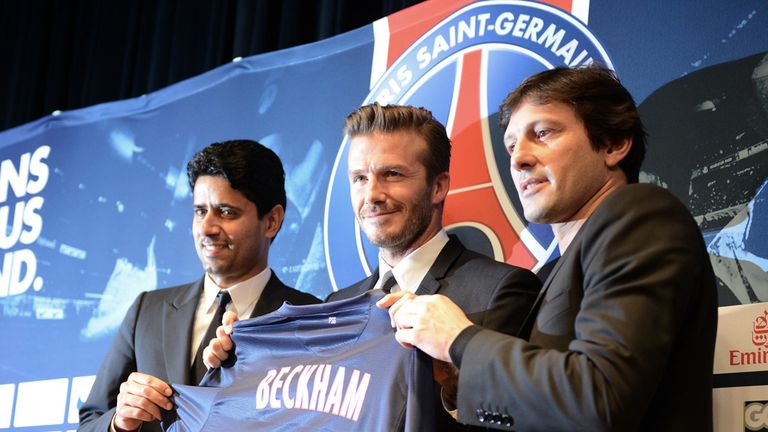 The 37-year-old joined the French side on transfer deadline day on a five-month deal and, according to coach Carlo Ancelotti, could make his debut at Sochaux on 17 February.
The move has been described as a media stunt by some critics but, with Scholes, 38, and Giggs, 39, still producing the goods at Old Trafford, Beckham believes he has plenty to offer the Ligue 1 leaders.
Asked if he can help boost PSG in the league and Champions League, the former LA Galaxy star told French broadcaster beIN Sport: Why not? I feel great, physically, I've always said, as long as I can continue to play the game at the highest level then I will continue to play.
"I never expected, when I was 30 years old, to still be getting the offers that I'm getting at 37 years old.
"Motivation never changes. I think once you have that motivation in you, it continues throughout your whole life.
"I look at players like Ryan Giggs and Paul Scholes, playing at Manchester United, still at the highest level - they don't play every game but when they do play they are big influences in the game, so I'm looking to do that.
"I'm looking to continue to be successful. And like I said, what keeps me going, I have four children at home, three boys and a little girl, so my energy comes from them."
Under their Qatari owners, PSG have a star-studded squad, including Zlatan Ibrahimovic, while Beckham is set to compete with the likes of rising Brazil star Lucas Moura and Javier Pastore for a place in midfield.
Regarding his first-team prospects, Beckham added: "We'll see. I can either play in the middle or on the right. Goalkeeping's not my biggest strength so I'll stay out of the way of that one!
"I don't expect to come in to this team and to be a starter in the teamsheet. I've never expected that wherever I have gone. I'll work hard for my place, I'll work hard to make the team successful."
The former Real Madrid star has been training with Arsenal to fast-track his fitness before meeting up with his new team-mates in Paris next week.
"It's going to take me a couple of weeks at least to get up to speed with the rest of the team," he added.
"But I think, I've always kept myself pretty fit. I needed time after last season to kind of recover, because after the Achilles injury that I had.
"It took a while for me to get going with that, but I have taken time off, I've trained with Arsenal a couple of days, and once I get in with the team I don't think it's going to take me long to be up to speed. I want to get playing as soon as possible to be honest."