Champions League: Rio Ferdinand hopes emotion will get to Cristiano Ronaldo
Rio Ferdinand hopes facing Man United for the first time since leaving will be too much for Cristiano Ronaldo.
By Graeme Bailey - Tweet me: @graemebailey
Last Updated: 13/02/13 7:33pm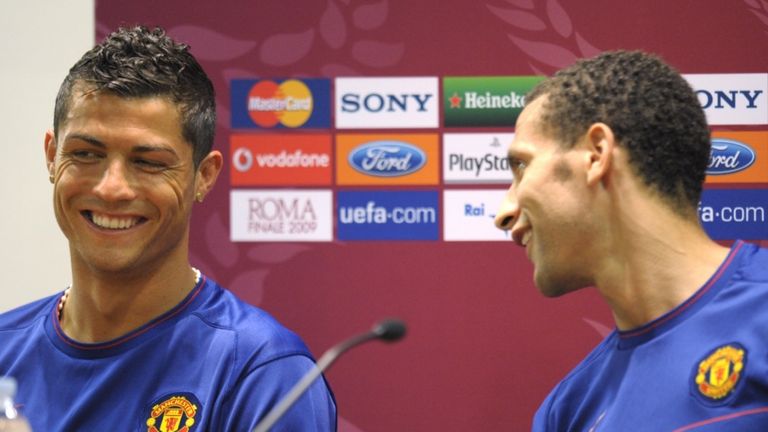 Ronaldo has not played against United since leaving in 2009 for a world record £80million - but he will face his former team-mates on Wednesday at the Santiago Bernabeu.
Since leaving United Ronaldo has emerged as one of the greatest players on the planet, but Ferdinand hopes he will not be replicating that form against them.
"It's obviously going to be an emotional night for Ronaldo and a great night for him too," said Ferdinand. "But hopefully it gets too emotional for him.
"We've had a few texts, but when you get into a situation like this when you're coming up against a friend, all the texts and the conversations go to one side and you don't really speak until you actually get the game over and done with.
"He has a great rapport with the fans and there is a mutual respect between them both, which is great.
"The fans appreciated him when he was here and since he's been gone they sing his name. He came here a young boy and left a world-class player. He showed a lot of respect when he left and still does.
"We're going to have to use all of our experience, courage and ability to make sure that we stop not only Ronaldo, but the other players they have, because Real are a great team.
"They have so many other weapons. We could shut Ronaldo down for 90 minutes, but they still have players to hurt us, so we have to be compact and work hard."
United full-back Patrice Evra echoed Ferdinand's sentiments, saying: "It will be emotional for Ronaldo because he loves Manchester United. I hope the emotion gets to him. That will be perfect for us.
"He will be a tough opponent but we have to make sure we are friends off the pitch and enemies on it. But we don't have to wind him up before this game because when he is angry he is at his best. We can kill him with love."
Rafael is likely to be one of the players charged with the task of halting Ronaldo and he is fully aware of what his former team-mate can do.
The Brazilian said: "I know what Ronaldo can do because I played and trained with him a lot.
"He's not the type of opponent where you would say, 'He's good, but I don't know what he can do'. I know what he can do. If you concentrate, that's the key, reading the game.
"For me, he's the best in the world. He's the complete player and I really like him. I think he's the No.1. I'm sure he'll get a good reception back at Old Trafford. It will be massive."
Gareth Bale was shackled by Rafael during United's 1-1 draw at Tottenham last month, but the right-back feels Ronaldo has different attributes to the Wales international.
He added: "They're both very quick but maybe they are just different. Ronaldo is right footed and plays a different type of game.
"He can come inside and shoot with power, but both of them are tough to come up against."
You can only watch the best UEFA Champions League coverage here on Sky Sports. Watch Real Madrid v Manchester United exclusively live on Sky Sports 2HD and Sky Go from 6:00pm on Wednesday 13th February. Click here for more details and watch goals from United's route to the last 16.